The owner of a popular Rhode Island deli-shop recently closed down one of the branches of his business.
But it wasn't for lack of customers. The local Patch reported on the sign that James Hallal, the owner of J's Deli, put up in the storefront window of the Woonsocket branch that's getting a lot of local media attention.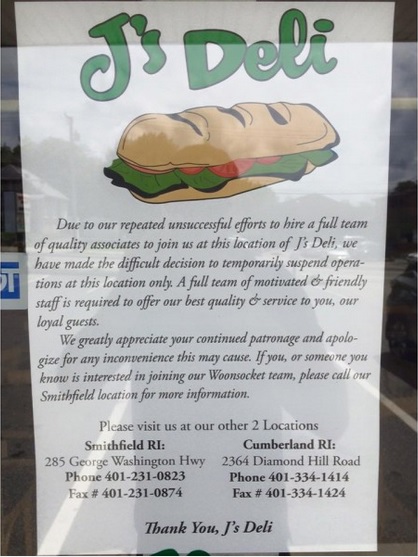 In an interview with the Patch, Hallal said he built J's Deli on "good will, great service, friendly employees," and that the location would remain closed until he could hire a team that would meet that guarantee.
Reports indicate that working at J's Deli isn't just a minimum wage, low-level job.
ABC 6 reported that J's Deli offers a competitive retirement plan for employees, and WJAR 10 revealed  employees with little-to-no experience can make up to $800-$900 dollars a week.
WPRI 12 reported that employees can make between $10-$14 per hour, which is well above the minimum wage.
According to WPRI 12, Hallal has received over 100 applications since putting up the sign.