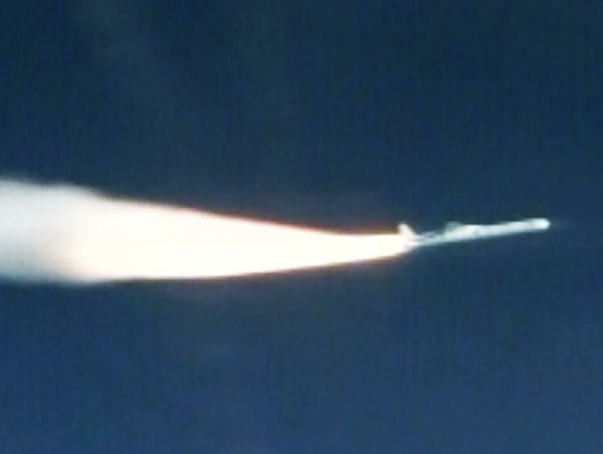 (Image via Twitter)
NASA on Wednesday launched eight micro-satellites that aim to improve hurricane intensity forecasts.
Video shows NASA launch the micro-satellites not with a spaceship, but with a plane.
"The unique, air-launched vehicle was carried aloft by Orbital's modified L-1011 aircraft, 'Stargazer,' which took off from the Skid Strip runway at Cape Canaveral Air Force Station in Florida and deployed the three-stage Pegasus XL rocket at a predetermined drop point 39,000 feet above the Atlantic Ocean and about 110 nautical miles east-northeast of Daytona Beach," writes NASA.
"Prelaunch activities went smoothly throughout the morning, aided by good weather and healthy vehicles, according to NASA Launch Manager Tim Dunn of the agency's Launch Services Program."
The Cyclone Global Navigation Satellite System (CYGNSS), once in orbit, can capture wind speed, which will help NASA determine the intensity of hurricanes early on.
"The direct signals pinpoint CYGNSS observatory positions, while the reflected signals respond to ocean surface roughness, from which wind speed is retrieved," NASA explains.
So far, NASA has been able to make contact with three of the eight satellites.
"Five to go!" NASA reports.
Check out video of the launch below.
Here's a simulation that shows how the satellites deployed from the Pegasus XL rocket in space.