There's an old saying that goes, "real recognizes real." Could that same logic be applied when it comes to anti-Semitism?
During his keynote address at the Nation of Islam's (NOI) Saviours' Day national convention in Chicago on Sunday, the reportedly anti-Semitic leader of the NOI, Louis Farrakhan, publicly threw his support behind Rep. Ilhan Omar (D-Minn.), claiming that the freshman congresswoman has "nothing to apologize for.
Here's part of Farrakhan's comments pertaining to Omar:
Miss Omar, from Somalia. She start talking about the Benjamins, and they trying to make her apologize. Sweetheart, don't do that. Oh, pardon me for calling you sweetheart. But you do have a sweet heart, cause you sure using it to shake the government up. But YOU have nothing to apologize for.
For video of Farrakhan's comments, watch below:
Omar has been under fire for anti-Semitic tweets and comments since she entered Congress in January.
Here is Omar's now infamous 2012 tweet, and her 2019 "kind of" apology, that many have deemed anti-Semitic: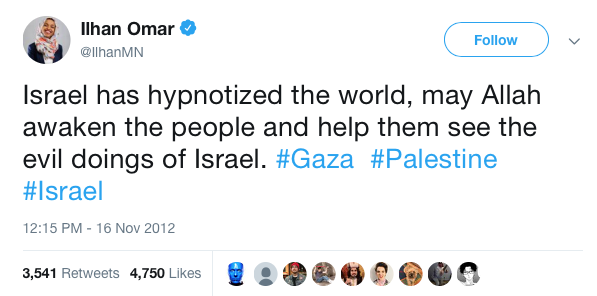 President Donald Trump even weighed in on the Omar controversy, calling on her to resign from either Congress or at the very least the House Foreign Affairs Committee. The president also called Omar's past comments "deep-seated in her heart" and that her apology was "lame":
If you're trying to downplay the public perception that you could be anti-Semitic, Farrakhan probably isn't the best supporter of your cause.