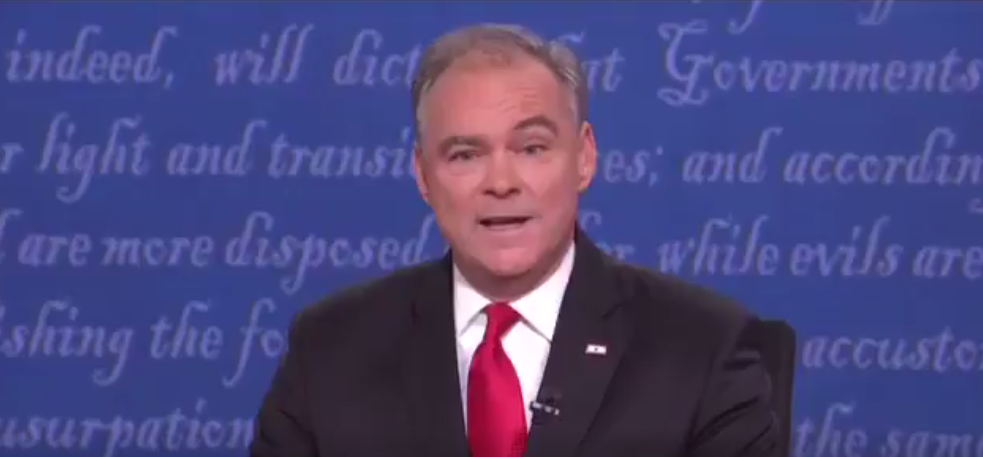 (Image via Screenshot)
Sen. Tim Kaine (D-Va.) assumed the role of Hillary Clinton's attack dog in the first and only 2016 vice presidential debate Tuesday night.
He began in his opening statement by saying that he and his wife are "scared to death" at the thought of a Donald Trump presidency.
"My primary role is to be Hillary Clinton's right hand person and strong supporter as she puts together the most historic administration possible," said Kaine.
"We trust Hillary Clinton, my wife and I," he continued. "We trust her with the most important thing in our life. We have a son deployed overseas in the Marine Core right now… The thought Donald Trump as Commander-in-Chief scares us to death."
Kaine went on to interrupt Gov. Mike Pence (R-Ind.) repeatedly, attacking Trump's business record and his and Pence's "love" of Russia's Vladimir Putin. 
He criticized Pence for standing by Trump who has "built his business career off the backs of the little guy" and "began his campaign with a speech where he called Mexicans rapists and criminals."  
"I can't imagine how Governor Pence can defend the insult-driven, selfish, for-me style Trump," he fired.
On the subject of Trump's taxes, Kaine would not let Pence finish his response. 
He said while pointing his finger at Pence that Trump broke his promise to release his taxes.
Thank you for supporting MRCTV! As a tax-deductible, charitable organization, we rely on the support of our readers to keep us running! Straight from Founder and President, Brent Bozell, please read the MRC request for support here to see how you can join the movement!