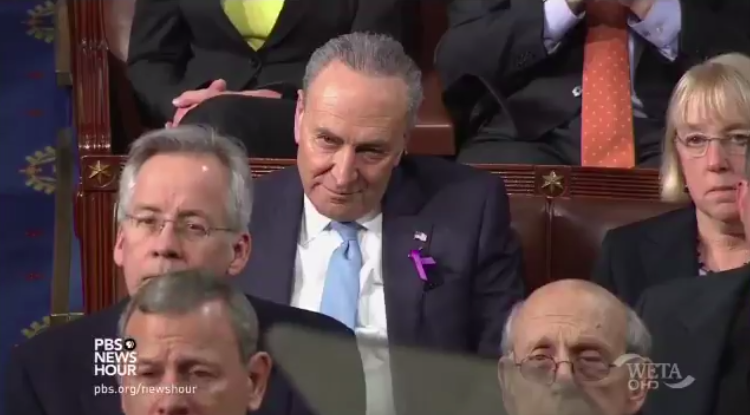 Image via Screenshot
Democrats were none too pleased during President Trump's State of the Union address at the Capitol Tuesday night as he called on lawmakers on both sides of the aisle to set aside their differences and "seek out common good."
Trump made a reference to the 2017 Congressional baseball shooting that left House Majority Whip Steve Scalise (R-La.) then in critical condition, saying that it is possible for Republicans and Democrats to come together.
"But it is not enough to come together only in times of tragedy," he said. Tonight, I call upon all of us to set aside our differences, to seek out common ground, and to summon the unity we need to deliver for the people. This is really the key."
Video shows Senate Minority Leader Chuck Schumer and House Minority Leader Nancy Pelosi with death stares fixed on the President at the podium. 
Trump went on to say that each day since he took office, his administration has "gone forward with a clear vision and a righteous mission, to make America great again for all Americans," citing the economy, tax reform, and the successful repeal of the Obamacare individual mandate.
Fourteen Democrats said they would skip Trump's speech, including Rep. Maxine Waters (D-Calif.) and Rep. Frederica Wilson (D-Fla.), in what could be the largest known boycott of a president's address.  
House Democrats such as Pelosi wore black as a show of solidarity with the "#MeToo" movement while others brought illegal immigrants or "Dreamers" with them as their guests for the address to send a message to the President on his immigration proposal.
Rep. Joe Kennedy III (D-Mass.) will be issuing the Democratic response to the address, though other lawmakers such as Waters and Sen. Bernie Sanders (I-Vt.) plan to issue their own rebuttals.
Thank you for supporting MRCTV! As a tax-deductible, charitable organization, we rely on the support of our readers to keep us running! Keep MRCTV going with your gift here!