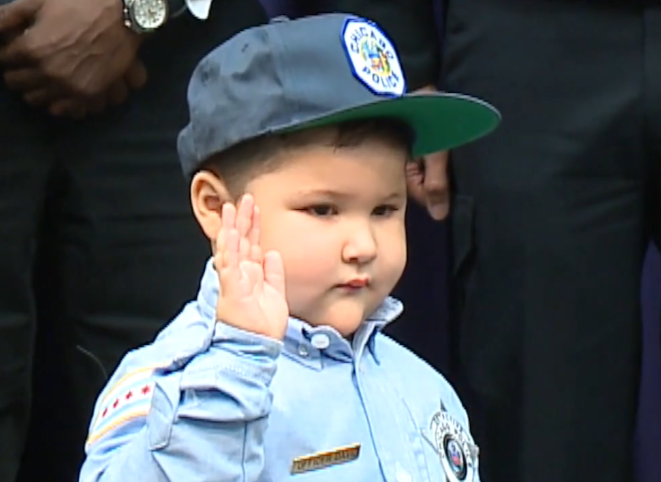 People can bash Christmas all they want, but it really is the season of dreams coming true.
That was the case for a three-year-old recovering cancer patient David Juarez, of Chicago.
Despite David only being a toddler, he had big dreams of being a police officer. That's when the Chicago Police Department (CPD) and the Make-A-Wish Foundation stepped in and made David and honorary police officer for a day.
CPD Superintendent Eddie Johnson swore Juarez in as an official Chicago police officer Wednesday.
WGN reported:
Then he was off to see the wide range of things police do on a daily basis, from checking out the motorcycles to taking a trip on the police boat, and of course meeting the mounted and canine units. He even got to take the bomb-diffusing robot for a spin[…]David even got the chance to bust some bad animals who stole some money – although they all ate cake together in the end.
Juarez's family said that David has been battling and is now recovering from neuroblastoma, a type of cancer that affects the nervous system. Neuroblastoma affects young children mostly, rarely affecting children over 10 years of age, according to cancer.org.
"It's been an uphill battle, but he's on the other side of the hill now – he's on his way down now," said David's grandfather, Mario Juarez.
Not only is Juarez beating cancer, but now he is fighting crime.
For video of Juarez's big day, watch below: