In their never-ending haste to mock Donald Trump, the Washington Post screwed up. Again.
The Jeff Bezos-owned, nationally acclaimed D.C. paper erroneously cited a satirical website as a legitimate source on Tuesday, likely because the site in question poked fun at Trump. Which, for the liberal media these days, is about all it takes.
The report falsely claimed Green Day lead singer Billie Joe Armstrong had written a piece for the website Clickhole.com in which the musician allegedly said he'd written the band's controversial 2005 "American Idiot" anthem specifically about former President George W. Bush. (Apparently, the song is seeing a resurgence on music charts in Great Britain as some weird form of protest to President Trump.)
Here's a now-deleted snippet from the Post's original article: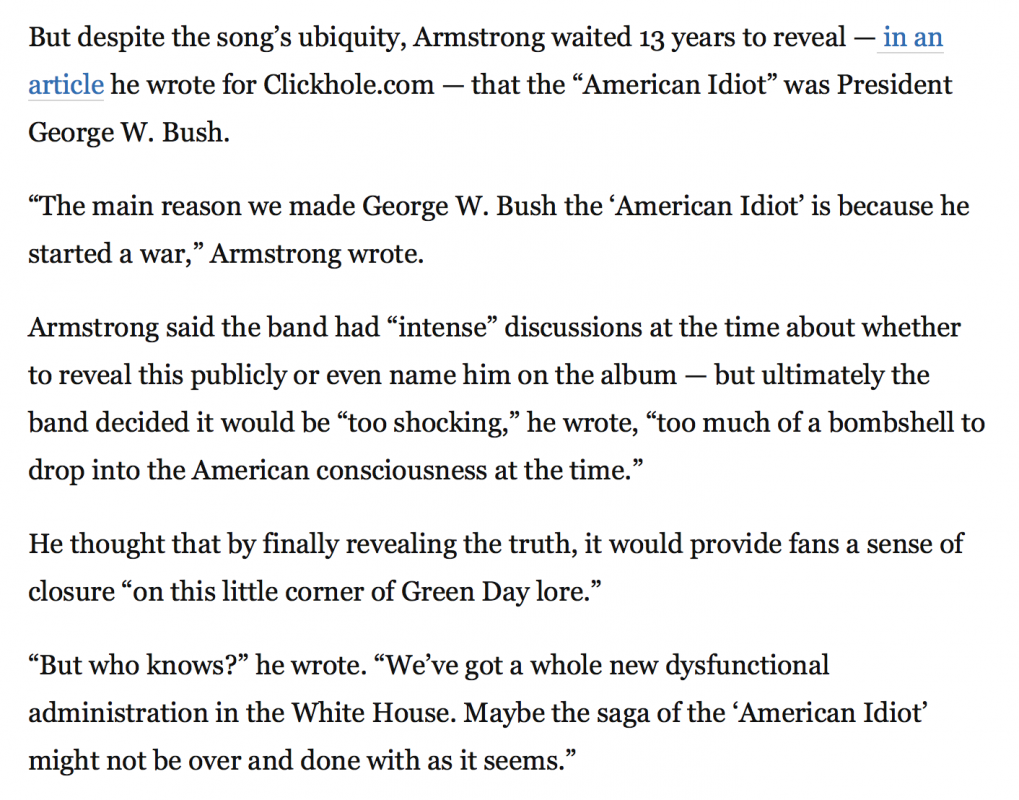 There's just one problem: Billie Joe Armstrong never wrote that piece. In fact, Clickhole.com is a satirical website run by The Onion, known for publishing outlandish nonsense as a joke.
After getting called out on social media for the error, the Washington Post was forced to issue this pretty embarrassing correction to their story:
Editor's note: A previous version of this report included information about the meaning of "American Idiot" that was attributed to a Clickhole.com article. Clickhole.com is a satire site. The information has been removed from the story.
Another swing and a miss for modern-day journalism.