It must be difficult to be on staff at The Washington Post -- or subscribe to it, or advertise with it – without feeling profound embarrassment.
On June 25, the "WaPo" offered what its editors seem to have thought was a potent attack on President Trump. The piece was an "analysis" by Philip Bump titled, "Trump Keeps Claiming The Most Dangerous Cities In America Are Run By Democrats. They Aren't."
But for the WAPO, the trouble is that this "debunking" actually confirmed President Trump's June 24 observation that the most dangerous cities in America are, in fact, run by Democrat politicians.
Indeed, the net result of this WaPo "debunking" is that Americans now have a chart created by the newspaper's graphics team that not only confirms almost everything Trump said, but we also can see the kinds of fudging and mental gymnastics leftists at the WaPo employ to distract from that confirmed point.
It's a point worth repeating: Democrat-run cities are the most dangerous in the nation.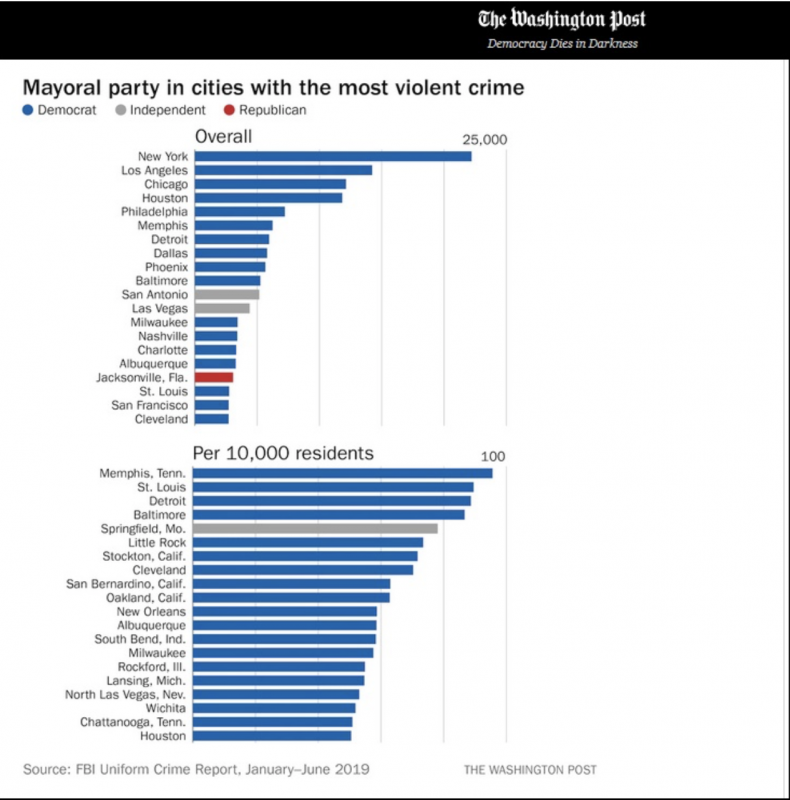 (Washington Post Screenshot)
To his credit, Mr. Bump goes to great lengths to cite Trump's June 24 statement, which the President offered at a White House event:
'You hear about certain places like Chicago and you hear about what's going on in Detroit and other — other cities, all Democrat run,' he said. 'Every one of them is Democrat run. Twenty out of 20. The 20 worst, the 20 most dangerous are Democrat run.'
And, to his credit, Bump calls out El Presidente, because it's not 20 out of 20...anymore.
For the past four years, one of them has been "run" by a Republican mayor – that city being Jacksonville, Florida, under Mayor Lenny Curry, who was elected in 2015 and reelected in 2017 and 2019. Prior to Curry, Democrat Alvin Brown held the spot, and prior to Brown, there were four Democrats, three Republicans, and one mayor who switched parties, for all the years going back to when the office was "consolidated" with Duval County in 1968. Prior that, going back all the way to 1865, there have been a total of six Republicans who have held the Jacksonville Mayor position for one or more terms.
So, Donald Trump is technically incorrect when stating that all 20 of the most violent U.S. cities are run by Democrats, and, even if one were to look at the Jacksonville City Council, one sees that its 19 members are comprised of six Democrats and thirteen Republicans.
Curiously, the violent crime rate in Jacksonville has trended down under Curry for all but the last year (which saw a decrease in overall crime, but more violent attacks) and the first quarter of 2020. For comparison, St. Louis, Missouri, the city running just below Jacksonville for violent crime between January and June, 2019, according to the FBI Uniform Crime Statistics used by the WAPO, saw violent crime increases for the past five years except for 2018. In 2017, it became the most violent city in the union in a per-capita measurement, and 2019 saw violent crime increase in the city to such an extent that it took the top spot in SwedishNomad's ranking of "Most Dangerous Cities US", and, despite the COVID19 lockdowns, 2020 appears to be on track to equal the 2019 homicide rate.
But that wasn't the point of Mr. Trump's comment, which was simple, and, save that lone city of Jacksonville, was correct – contrary to the WaPo headline. In fact, in 2018, The American Thinker's Rich Logis noted that 19 of the 20 most violent cities in the U.S. were run by Democrats.
Yet the Post's Bump burns over 1,000 words trying to hem and haw and come up with qualifications that have no bearing on the overall, unshakable fact. Like a kid trying a magic trick when he lacks the skills and talent, he attempts to discount the problem, claiming that, well, of course these cities are violent -- because they're cities.
Cities generally have more crime than suburban and rural areas. That's been true for decades if not centuries and is true across the planet. The connection has been the focus of repeated research. In other words, if it were the case that cities were also more prone to elect members of one party over another, it might seem as though the most crime-riddled places in America were a function of leadership from that party.
And, shock, he then focuses on the fact that cities tend to be run by Democrats.
You are certainly aware that cities tend to be heavily Democratic. In the 2018 House elections, Democrats won every district identified by CityLab as being purely urban. They lost only one district identified as an "urban-suburban mix." In other words, Democrats won 81 of the 82 congressional districts identified as fully or partially urban.
Which does nothing to discount Trump's overall point. In fact, it merely strengthens one's understanding that the most violent cities in the U.S. are run by Democrats. It was clear last year, when MRCTV Director Eric Scheiner and I discussed the "Five Worst U.S. Cities," how they were run by Democrats, and how, on the whole, they had been run by Democrats for decades. Those would be cities like Los Angeles, Detroit, New York, Washington, D.C., Baltimore, and Chicago, complete with their insane gun restrictions that haven't stopped criminally-minded people from obtaining and using them, abysmal government-run schools, and tax and regulatory policies that have smothered independent businesses and driven more people into black-market lines of work.
No amount of Washington Post shading can change this obvious and long-standing fact. One need not be a devotee of Trump's policies to acknowledge that his overall point is right. And while there may be many causative factors that are endemic to cities being more violent than non-urban areas, the facts remain that of the top 20 violent CITIES in the US, 19 of them are run – and have been run, on the whole, for many years – by Democrats.
Now, thanks to the chart that the Washington Post conveniently put together based on the FBI stats, it's obvious that is the case. And it's obvious that the editorial team at the newspaper are now so politicized, they've become disconnected from the content of their own articles.