Only a few years after slamming Vice President Mike Pence for his unwavering commitment to his marriage, the Washington Post is now gushing over Kamala Harris' relationship with her husband.
Because, as we all know by now, there are a whole other set of rules for Democrats.
Fresh out of actual news to report, and blinded by their own bias, the Post ran this headline over the weekend regarding Harris and her marriage to Doug Emhoff: "Kamala Harris's marriage inspires so many of us still searching for our Dougs."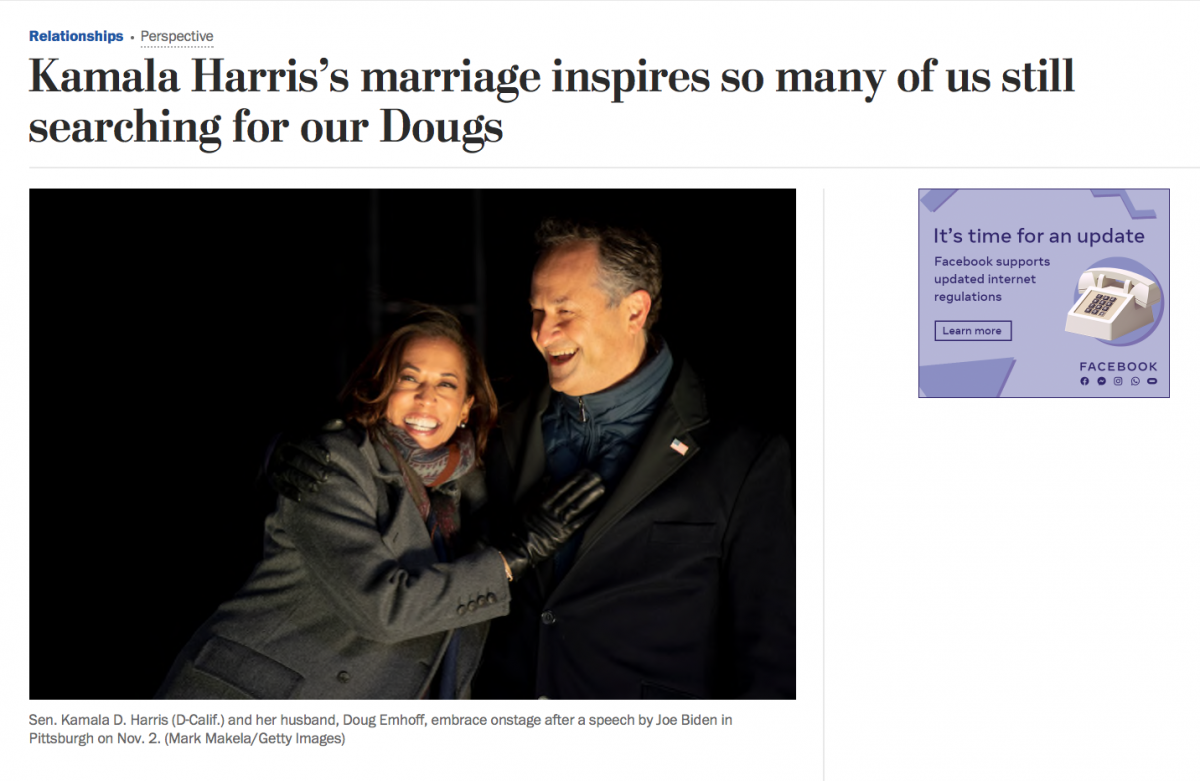 In which author Lisa Bonos gushes over Harris' marriage, hailing it an inspiration to "anyone who has ever doubted they'll find a loving, lasting partner. Anyone who struggles to find a partner who will support their ambitions. Anyone who has found that person well past their 20s or early 30s, the artificial deadline our culture still holds up for falling in love, and anyone who's still looking in middle age or beyond."
Pardon me while I dry heave for a moment.
Admittedly, the author says she doesn't know much about Harris' relationship with her husband aside from the brief mentions in Harris' book, but praises her simply for having found a man in her 40s (hey, girls, it's never to late!). Of course, that was only after Harris, when she was a mere 29, dated former San Francisco Mayor Willie Brown, when he was 60 and still legally married to his wife.
But apparently, Harris' simply being married now is #relationshipgoals in and of itself – despite the fact that the Washington Post, along with a veritable mob of other liberal media elite, ran countless op-eds in 2017 critical of Vice President Mike Pence for his rule against having dinner alone with women who aren't his wife to avoid even the appearance of impropriety.
One such WaPo op-ed headline claimed that "Pence's unwillingness to be alone with a woman is a symptom of a bigger problem," accusing Pence of being a misogynist who creates professional roadblocks for women trying to advance their careers.
Another complained that "The religious reasons Mike Pence won't eat alone with women don't add up," taking aim at Biblical standards of morality and the appropriateness of a married person being alone with someone of the opposite sex.
Regardless of WaPo's clear double standards for relationships depending on who's in it, one thing's for sure: no one has ever accused Mike Pence of hsexual impropriety.
The same can't be said of Harris.