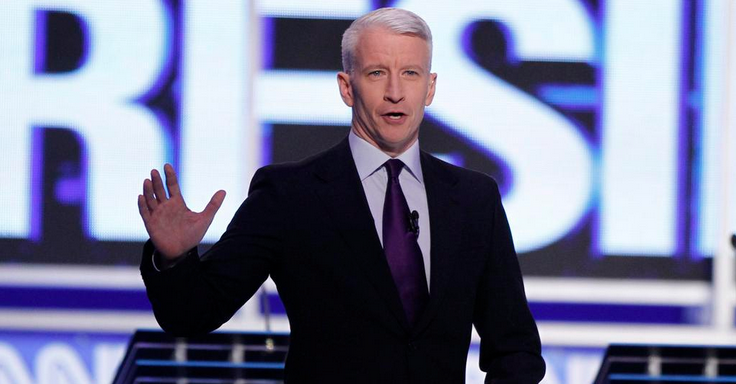 Image via Twitter
The Washington Post went after CNN in an article published on Wednesday entitled, "Where Were CNN's Black and Latino Moderators All Night?" accusing the news network of talking a big game about equality and inclusion but broadcasting just the opposite.
"The Fix" author Janell Ross writes,
"For all the talk about inequality and inclusion from the Democratic presidential candidates, for all the major national news this year about the ways that American life remains shaped by race, for all the reporting that's been done on the rapidly changing demographics of the United States, the network airing the first Democratic presidential primary debate Tuesday thought it wise to allow an experienced Latino reporter to ask a small series of questions about immigration, and a black reporter to introduce a single inquiry from Facebook about Black Lives Matter. And that's all we heard from them until nearly two hours into the debate.

"Yes, we are aware that Don Lemon introduced a second question from Facebook about climate change at 10:36 p.m. Yes, we are aware that CNN en Espanol's Juan Carlos Lopez asked Clinton a direct question about her noncommittal stance on legalizing marijuana at 10:45 p.m., and followed up on that question. And yes, we know that Lemon even asked a third question about Obama and the issue of compromise with Congress, on behalf of a viewer in Manassas, Va.

"See what we did there? We even noted the time. But the question here is: Did CNN?"
The author went on to say that the way CNN structured the debate – in which "everything," including the questions and who delivers them, "is planned" – was tragically "telling."
"CNN is free to showcase Cooper as much as it likes. That's the network's prerogative. But the arrangement Tuesday night was particularly telling. What we heard from Lemon until 10:36 and Lopez until 10:45 were not just questions mysteriously connected to CNN's apparently pretty limited notion of either non-white viewers, journalists or both, but a pair of questions about immigration and the Black Lives matter movement that each and every one of the candidates had to anticipate.

[...]

"And to be clear here: Everything — particularly the questions and who will pose them — during a debate is planned."
The Washington Post's scathing criticism of CNN ended with a memo for the network's producers, advising that they not pigeonhole their journalists of color into careers centered on solely immigration and/or race, but allow them to branch out and offer commentary on other topics of equal importance such as education and the economy.
Ross writes,
"Here is the memo that CNN's producers might have missed about America, circa 2015: Race and ethnicity matter, sometimes in ways that are truly disturbing. But what non-white America thinks about a whole range of issues and the ability of all journalists to frame questions which are cognizant of the way race works in America matters too.

"These are questions that presidential candidates need to be asked. And, quite frankly, America could benefit from watching a wider variety of people asking a bigger range of questions, period."
Let's see how CNN responds once the Twitter universe gets ahold of this piece.