Walmart has pulled a controversial T-Shirt from its online site after the Radio Television Digital News Association (RTDNA) sent a letter requesting its removal to the retailer.

The shirt, featuring the words "Rope. Tree. Journalist. SOME ASSEMBLY REQUIRED," had been offered for sale on Walmart.com through a third-party seller, Teespring.com but the company pulled the product from their site Wednesday. (Teespring has since removed the shirt from its website as well).

According to the RTDNA website, RTDNA Executive Director Dan Shelley sent a letter to Walmart officials pointing out that the message sent by the shirts could "inflame the passions of those who either don't like, or don't understand, the news media. At worst, they openly encourage violence targeting journalists."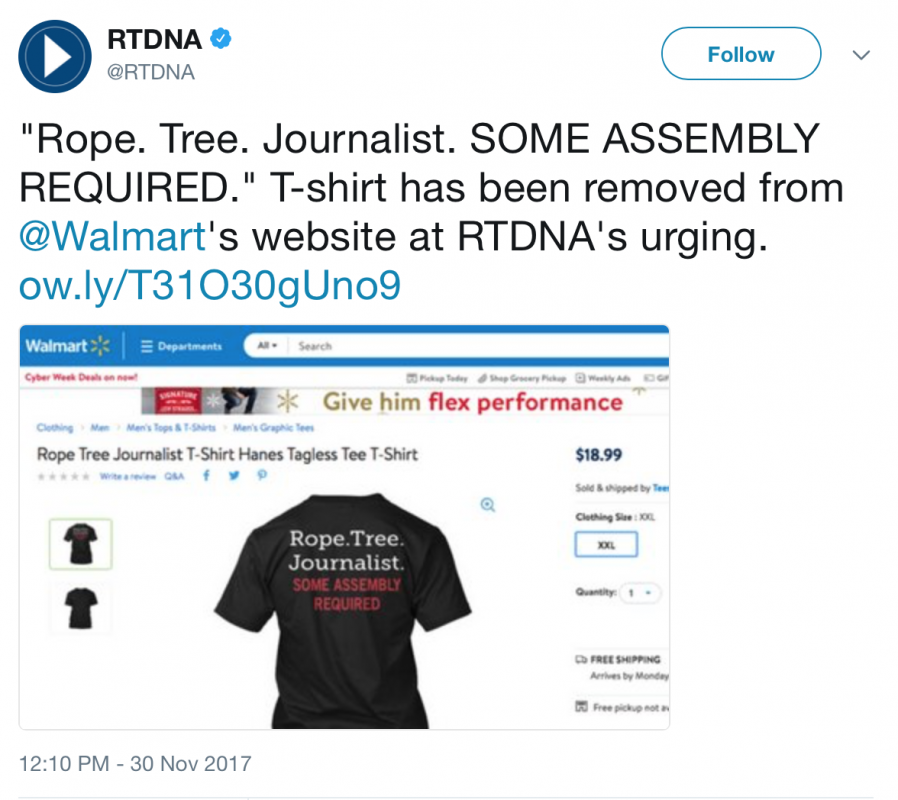 "We are grateful for Walmart's swift action, but dismayed that it, and anyone else selling the shirt, would offer such an offensive and inflammatory product," Shelley said. "We live in an environment in which political and ideological discourse has deteriorated to the level where some find it appropriate to advocate violence targeting journalists merely for performing their Constitutionally-guaranteed duty to seek and report the truth," he added.

"We recognize that under the First Amendment, companies have a right to sell, and consumers have a right to purchase, these shirts. But that doesn't mean it's the right thing to do, especially in today's vitriolic climate," Shelley said.
Thank you for supporting MRCTV! As a tax-deductible, charitable organization, we rely on the support of our readers to keep us running! Keep MRCTV going with your gift here!