A waitress at a Buffalo Wild Wings location in Illinois says a family denied her a tip because of her tattoo symbolizing gay pride.
Samantha Heaton claims on Aug. 5, she was serving a family of five at the Rockford Buffalo Wild Wings location. At the end of their order, however, Heaton asserts the family did not provide her a tip on their $60.55 bill. Instead, according to Heaton, the family left a note on their receipt, reading, "Can't tip someone who doesn't love Jesus! Bad tatoo [sic]."
In order to drum up sympathy for what reportedly happened to Heaton, her coworker Joelle Nicole Maish shared a photo of the alleged receipt. In the Facebook post, Maish claims being gay does not mean you can't be a Christian. She also chastises the family for misspelling the word "tattoo."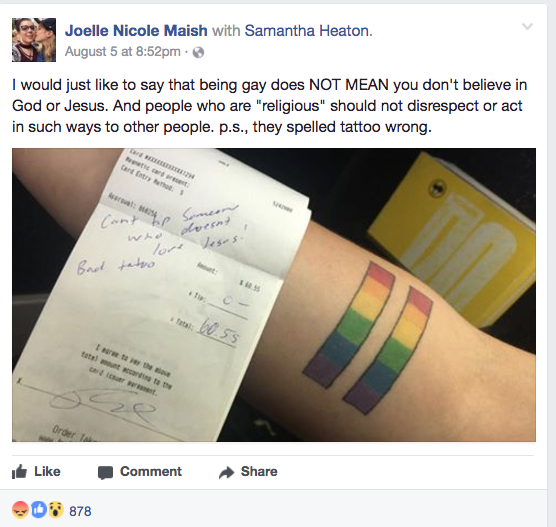 After the post went viral, Heaton told the Rock River Times, "I went above and beyond for this couple, and for them to leave that (note) kind of hurt."
"Like, I have bills to pay, too," she added.
She also told the Rock River Times that someone asked her if she would still get the tattoo given the alleged backlash.
"Someone asked me the other day if I would go back in time and get the same tattoo and I said, 'No I would get it bigger," she said.
Heaton reportedly said she isn't interested in flaunting her sexuality — despite her tattoo — but said she was upset that people were reportedly exhibiting behavior the Rock River Times described as "contrary to everything Christ taught."
Heaton told the Rock River Times that she also identifies as being a Christian.
She said, "I do believe in Jesus and God. I myself am a Christian."
"And, as a Christian, thou shall not judge," she stated. "No matter how someone looks, you should love them for what's in their heart and how they treat you—not for what is on the outside. As someone who came out when it was still a battle for the LGBTQ community, that's just plain rude and uncalled for. What if one day their kids grow up and want to be with the same sex, are they going to disown them? Throw them on the street?"
News about the alleged incident soon became national news within the gay community and ended up a top Twitter moment.
Users claimed that if the same thing happened to them, they would assault the family. They also offered to donate money to Heaton, supposedly to make up for the alleged lack of tip. Heaton and Maish asserted they don't want money from potential donors.
In 2013, a New Jersey waitress lost her job after lying about being denied a tip because of her sexuality. In the case of the New Jersey waitress, the money raised from sympathetic supporters was donated to the Wounded Warrior Project.
Thank you for supporting MRCTV! As a tax-deductible, charitable organization, we rely on the support of our readers to keep us running! Keep MRCTV going with your gift here!