Did the Federal Bureau of Investigation (FBI) drop the ball again? What level of culpability should be placed at the feet of the bureau and local law enforcement agenices? Could this recent shooting have been prevented?
The monster that took the lives of four people at a Nashville, Tenn. Waffle House in the early hours of Sunday morning is still at-large. The Metro Nashville Police Department (MNPD) tweeted Monday morning that they're still searching for the suspect.
Here's the MNPD's tweet: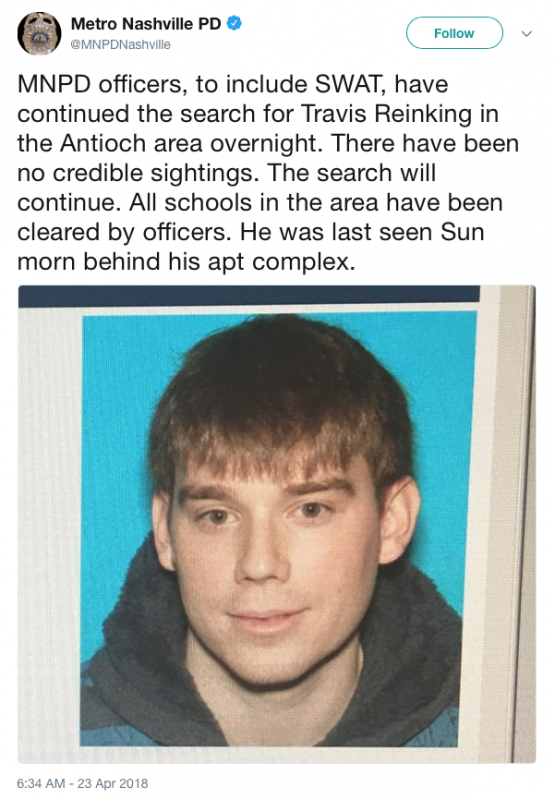 The FBI held a press conference on Sunday discussing what they knew about the suspect. The young man was previously arrested in July 2017 for jumping a White House security barrier. The state of Illinois took the suspect's guns away, including the weapon the suspect used in the Waffle House shooting.
The FBI admitted to knowing all of this on Sunday:
According to NBC News, authorities in Illinois then returned the guns to the suspect's father — who subsequently gave the weapons back to his son for some odd reason.
The rest is tragic history.
Even before jumping the White House barrier, law enforcement knew of the suspect before.
According to CNN:
Reinking's brush with law enforcement in the nation's capital was not his first. Documents obtained by CNN affiliate WBBM from the sheriff's office in Tazewell County, Illinois suggest a troubling pattern involving guns and what one police report described as "delusional" behavior.

"Travis is hostile toward police and does not recognize police authority. Travis also possesses several firearms," an officer said in a May 2016 incident report. At the time, Reinking's parents had called emergency services to report their son believed pop star Taylor Swift was stalking him, and he had made comments about killing himself.
The suspect clearly has mental health issues, and authorities gave back the weapon that ultimately killed four people to the suspect's family. Didn't anyone think to follow up on that kind of action?
Much like the shooting in Parkland, Fla. on Valentine's Day, both the FBI and local law enforcement knew about the suspect before the atrocious shootings occurred.
When can we stop blaming the guns, and start blaming those responsible (the shooter) — or at least ignorant (authorities) — to these situations? The gun used to heinously kill four people should never have been back in the suspect's hands.