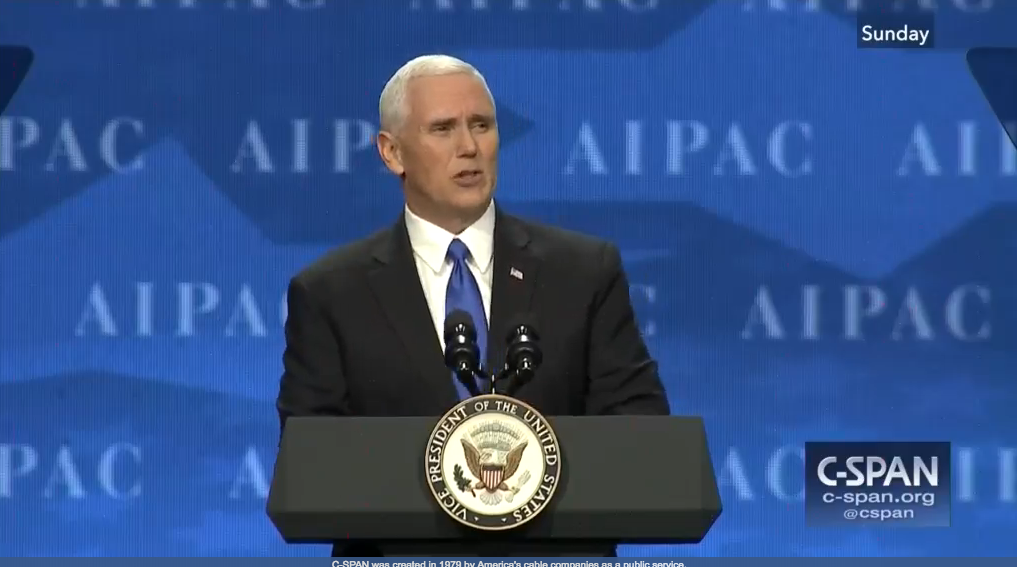 While speaking at AIPAC on Sunday, Vice President Mike Pence spoke about the Trump administration's "non-negotiable" commitment to Israel and clarified some of the administration's promises to the Jewish people.
At the beginning of his remarks, Pence talked about Trump condemning anti-Semitism at his first joint address to Congress. Pence then spoke about the President's relationship with Israel itself, saying, "For the first time in a long time, America has a president who will stand with our allies and stand up to our enemies":
"And he's a man of action. For the first time in a long time, America has a president who will stand with our allies and stand up to our enemies. And under President Donald Trump, if the world knows nothing else, the world will know this, America stands with Israel. President Trump and I stand with Israel for the same reason every freedom loving American stands with Israel: because her cause is our cause. Her values are our values. And her fight is our fight. And President Trump is a lifelong friend of Israel. I've seen it firsthand, the president's deep affection for Israel and all who cherish her."
The Vice President highlighted instances in which the Trump administration showed its dedication to helping Israel, such as appointing Nikki Haley to the United Nations and David Friedman as the ambassador to Israel.
Pence also mentioned how Trump is still considering moving the American embassy from Tel Aviv to Jerusalem, which was one of his campaign promises that have not yet been fulfilled.
According to the administration, Trump has made "no decision" as of yet on moving the embassy:
"As you'll hear tomorrow night, Ambassador Haley is already fighting tirelessly to end the one-sided actions of the U.N. that unfairly target Israel. And under President Trump, the United States will no longer allow the United Nations to be used as a forum for invective against Israel or the West. Or how about when President Trump named David Friedman to represent the United States of America in Israel?

"David is an unabashed advocate for a stronger Israel-America relationship and our friendship will be stronger after he gets sworn in as ambassador. And I got to tell you, I just can't wait. This week, it will be my high honor to administer the Oath of Office to Ambassador David Friedman.

"And know this, after decades of simply talking about it, the President of the United States is giving serious consideration to moving the American embassy from Tel Aviv to Jerusalem."
Pence also addressed the controversy surrounding the President and his plans for an Israeli-Palestinian peace agreement.
The administration has infamously said there needs to be sacrifices on Israel's side in the quest for peace, including calling for Netanyahu to halt building settlements:
"But let me be clear, President Trump is also invested in finding an equitable and just solution to the Israeli-Palestinian conflict. Just a few weeks ago, the president dispatched Jason Greenblatt, his special representative for international negotiations to visit Israel and the Palestinian territories and to bring a message that President Trump is committed to forging a last peace in the Middle East. Just last week Jason hosted a senior Israeli delegation led by Prime Minister Netanyahu's chief of staff to continue these discussions.

"And while there will undoubtedly have to be compromises, I can assure you all President Trump will never compromise the safety and security of the Jewish State of Israel. Now, since its founding, the Israeli people have awed the world with their strength of will and their strength of character and at all times in war and in peace, the Jewish people have held their heads high."
Vice President Pence emphasized that the Trump administration's committment to Israel is "non-negotiable":
"I'm proud to day today America's support for Israel's security is at a record level and President Trump has made it absolutely clear our commitment to Israel's defense is non-negotiable, not now, not ever," he remarked.
Thank you for supporting MRCTV! As a tax-deductible, charitable organization, we rely on the support of our readers to keep us running! Keep MRCTV going with your gift here!