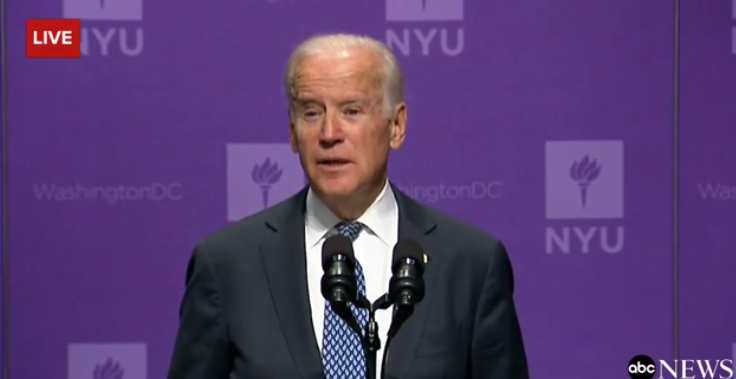 (Image via Screenshot)
Vice President Joe Biden on Thursday struck a different tone than President Barack Obama who has refrained from commenting on the election ever since the results became final, advocating instead that the country come together now that the election is over.
Biden told students at a forum in Washington, D.C., sponsored by the New York University School of Law, that he feels "embarrassed" by how the 2016 presidential campaign played out.
"I find myself embarrassed by the nature and the way in which this campaign was conducted," said Biden. "So much for the shining city on the hill."
"This has been a very tough election," he said. "It's been ugly; it's been divisive; it's been coarse; it's been dispiriting."
"It was more a battle of personalities than it was ideas, in my view," Biden added.
The Vice President went on to say that for many people, it feels as though the country is more divided than ever, and that the election "brought out the worst in the political system."
After offering his somber account of the 2016 presidential campaign, Biden suggested that public financing – as opposed to the current campaign financing system involving donors and super PACs – could repair, at least in part, what he described as a flawed electoral process.  
"If you want to change overnight, instantaneously, the electoral process in America and the way we handle issues, have public financing," he said. 
Check out a clip from his remarks below.