Misleading people is totally cool if it brings about change. 
Based on this tweet, Vox writer Matthew Yglesias actually believes this: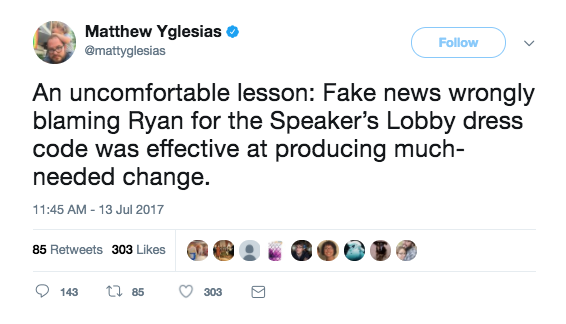 Last week, liberal writers at outlets like Jezebel and Esquire expressed their outrage that women representatives were "no longer" allowed to wear sleeveless dresses on the House floor. Obviously, they said this was part of the sexist GOP agenda manifested in Speaker Paul Ryan's refusal to allow women to bare their arms. 
Ryan is the Patriarchy, I tell you! 
Well, it turns out, this is completely misleading. The U.S. House of Representative's dress code has been around long before Ryan became Speaker of the House and requires that all members (including men) meet full professional attire. 
Because of the rabble, Ryan graciously announced that his office would update the dress code to include more contemporary styles, like professional sleeveless dresses for women. 
According to Yglesias, completely maligning Ryan for a rule he has no connection to is acceptable if the result is a change in the dress code. The ends justify the means if the fake news takes away the sleeves. 
I'm sure if a similar fake outrage had an outcome conservatives liked, Yglesias would be on board with that. Though, his twitter bio does say he is "Totally biased." 
Thank you for supporting MRCTV! As a tax-deductible, charitable organization, we rely on the support of our readers to keep us running! Keep MRCTV going with your gift here!