In light of the recent NFL national anthem protests, one bar owner in Fairfax, Va. is standing up to those taking a knee.
Fat Tuesday's owner R.L. Butler and his wife Karen have decided against showing NFL games for the foreseeable future.
"I decided that I will no longer be showing the NFL games. The players should learn to respect our national anthem plus our flag," Butler told MRCTV.
Here is the flier that Fat Tuesday's is displaying to explain their decision to patrons: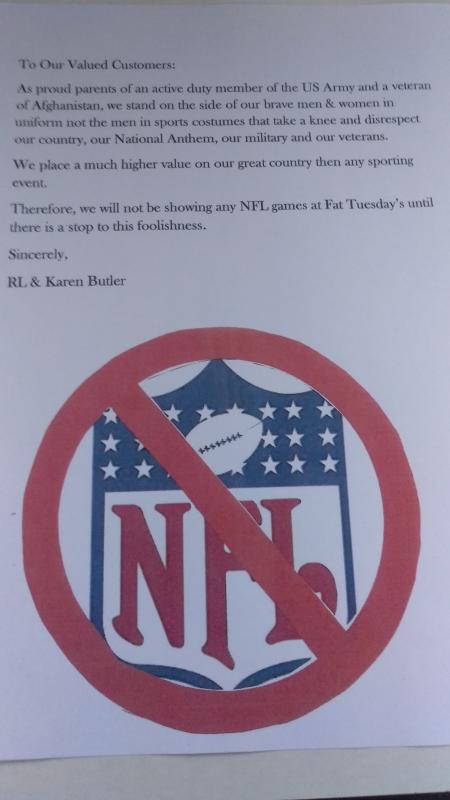 One reason Fat Tuesday's decided against showing NFL games, is the owner's daughter is an active member of the military.
"One of my children is in the military, served in Afghanistan," Butler said. "I started thinking, 'what were to happen if she would have come home in a body bag or disabled or in a wheelchair?'"
While conventional wisdom would say that Fat Tuesday's would lose business over the decision not to show NFL games over the weekend, R.L. really isn't that worried about it.
"People have been coming in who haven't been here for years," Butler said.
Butler also told MRCTV that they've heard of other bars across the country that have made the same decision as Fat Tuesday's, and if there were enough bars that got together to say "enough" then these protests would be over in one week.
Patrons of Fat Tuesday's have showed up just to show their support for the decision to turn off the NFL.
"My heart goes out, and this place has our 100 percent support," one Naval veteran told MRCTV. "I stand behind what they're doing and their decision."
Fat Tuesday's and their owners are not worried at all over losing business for not showing the NFL games over the weekend, and why should they? You shouldn't be ashamed or have to apologize for having pride in the American flag and the national anthem.
Thank you for supporting MRCTV! As a tax-deductible, charitable organization, we rely on the support of our readers to keep us running! Keep MRCTV going with your gift here!