For those that believe the leftist social media and radical media narrative that violence towards supporters of President Donald Trump following the "Million MAGA March" lat Saturday are unfounded, the lie detector test determined that was a lie. Not only were people arrested and charged with crimes for their actions that evening, but new information is coming out concerning some who were apprehended.
The man who allegedly sucker punched and knocked out a Trump supporter on Saturday, 39-year-old Kenneth Wayne Deberry, was arrested and charged with "Disorderly Conduct – Inciting Violence, Aggravated Assault and Felon in Possession of a Firearm after he was found to be in possession of a handgun," according to the Washington D.C. Metropolitan Police Department (MPD).
Well, Deberry turns out to have some priors.
In 2008, Deberry was convicted of "second degree child sexual abuse against a person under 16 years of age," according to the MPD Sex Offender Registry.
Here's a screenshot of Deberry's mugshot and conviction record: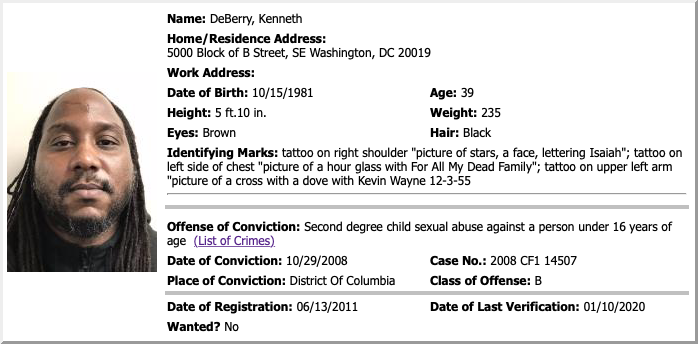 For those who haven't seen why Deberry was arrested, watch the video below (Note: Deberry's assault is around the 1:24 mark):
As you could see above, Deberry allegedly came up from behind the victim and sucker punched him in the face.
According to the MPD report of the events on I Street in D.C. on Saturday:
…the suspects were involved in a collaborative effort to incite violence during first ammendment [sic] assemblies at the listed location. One of the suspects struck the victim rendering him unconscious. Other suspects assaulted the victim and took his property. Four suspects were apprehended at the scene by responding officers.
With the continued uncertainty over which major party's nominee won the 2020 presidential election, it'll be interesting to see if the violence continues and to what degree.
H/T: Daily Caller