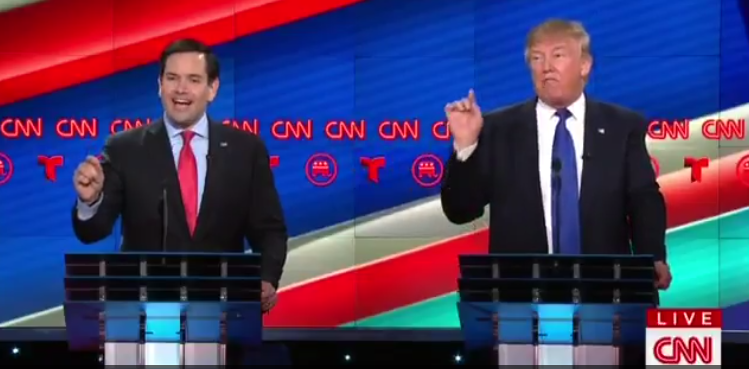 (Image via Screenshot)
Donald Trump and Florida Sen. Marco Rubio went at it over immigration during CNN's Republican presidential debate in Houston, Texas Thursday night.
Trump repeatedly gave himself credit for putting the issue of immigration on the map and declared himself the toughest candidate on the issue.
In response, Rubio told Trump to own up to his record of hiring illegal immigrants.
"If you're going to claim that you're the one who lifted this into the campaign, that you acknowledge, for example, that you're the only one on stage that's ever been fined for hiring people to work on your projects illegally," said Rubio.
"No, no! I'm the only one on stage who's hired people," Trump interjected. "You haven't hired anybody."
As the two tried to yell over one another, Trump added, "And by the way, I've hired tens of thousands of people over at my job. You've hired nobody. You've had nothing but problems – with your credit cards, etc…"
Check out the moment unfold below.
MRCTV Reader,
The liberal media are terrified of the truth, especially when it leads to uncomfortable questions about their own leftist worldview.
MRCTV is the multimedia division of MRC featuring original content and aggregated videos of the news, people, and events conservatives care about.
MRCTV relies on the support of our loyal readers (and video viewers) to keep providing the news and commentary that matter to the American people, not just stories that prop up the liberal agenda.
Make a donation today. Just $15 a month would make a tremendous impact and enable us to keeping shining the light where the liberal media are afraid to tread.
— The MRCTV Team
DONATE
Connect
Sign up for our MRCTV newsletter to receive the latest news.
Sponsored Links