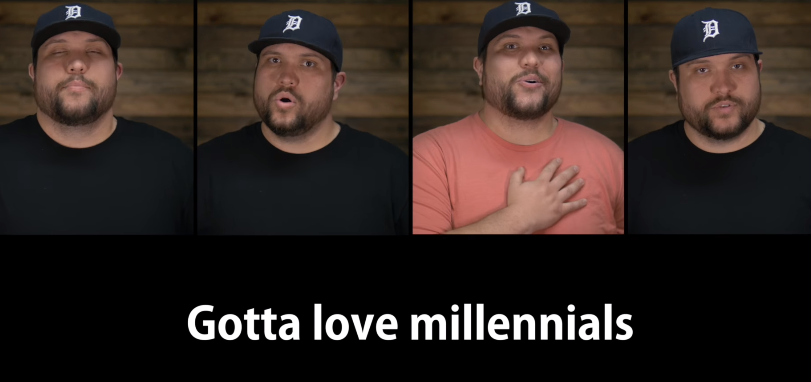 A couple weeks back, YouTuber Micha Tyler posted a video mocking the millennial generation and their feelings of entitlement.
Tyler filmed himself singing, scatting and harmonizing separately, and then put the videos side-by-side in order to make it sound like an acapella quartet.
Not only will the now-viral video have you nodding your head in agreement, but the light humor in the piece will have you smiling and laughing as well.
The video tells the tale of a misguided generation that has experienced the technology boom, lived with everyone calling them a "winner" and feels entitled to anything they want.
According to multiple sites, the millennial generation is anyone born between 1982 and 2004. (And if millennials want to call me a hater, I simply had the misfortune of being born at the beginning of a generation I don't understand.)
Tyler keeps it light-hearted, and the song itself is actually pretty good. Check it out below:
MRCTV Reader,
The liberal media are terrified of the truth, especially when it leads to uncomfortable questions about their own leftist worldview.
MRCTV is the multimedia division of MRC featuring original content and aggregated videos of the news, people, and events conservatives care about.
MRCTV relies on the support of our loyal readers (and video viewers) to keep providing the news and commentary that matter to the American people, not just stories that prop up the liberal agenda.
Make a donation today. Just $15 a month would make a tremendous impact and enable us to keeping shining the light where the liberal media are afraid to tread.
— The MRCTV Team
DONATE
Connect
Sign up for our MRCTV newsletter to receive the latest news.
Sponsored Links