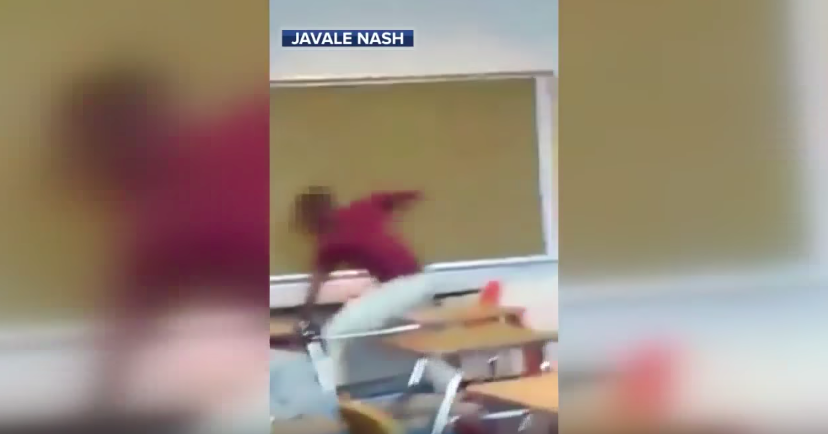 A student at a Milwaukee high school has been arrested on possible charges of battery after viciously assaulting his teacher, reports FOX 6.
Video captured by one of his classmates at South Division High School shows the 16-year-old student arguing with his teacher. He then rushes toward his teacher and punches him several times in the head, continuing even after the man falls to the floor.
It is unclear what the two were fighting over.
Police say the student was arrested at the school and awaits possible charges of battery. The teacher suffered non-life threatening injuries. 
An investigation into the incident is underway.
According a student that spoke to local station TMJ4, the teacher was well known among the student body.
"He is kind of like helper," student Gustavo Miramontes, 17, told TMJ4. "He mostly just like if a kid has a question he will help them out if they are struggling or something."
Milwaukee Alderman Bob Donovan issued a statement on the incident, saying that violence at the Milwaukee Public School district cannot be tolerated.
"Actions like this need criminal charges to send a message, and hold the student responsible for their reckless and dangerous behavior," the statement reads. "I applaud the many great teachers and students at MPS, however, there is a segment of students who choose to behave inappropriately and criminally, which robs other students and teachers of an opportunity to build a safe learning environment."
The Milwaukee Public School district is cooperating with police in their investigation.
Watch the incident unfold below.
Thank you for supporting MRCTV! As a tax-deductible, charitable organization, we rely on the support of our readers to keep us running! Keep MRCTV going with your gift here!