Climate change protesters in sunny California just couldn't take the good weather they were having and decided to head to an In-N-Out Burger to protest their displeasure with those who couldn't care less about their ideology.
Video was captured of the climate activists trying to invade the fast food restaurant but they were immediately handled like little children putting up a fit and escorted out of the building by an employee.
"Climate change activists raid a burger joint and harass the workers," Ian Miles Cheong tweeted. "Neither the employees nor police are having it. People are fed up with Extinction Rebellion."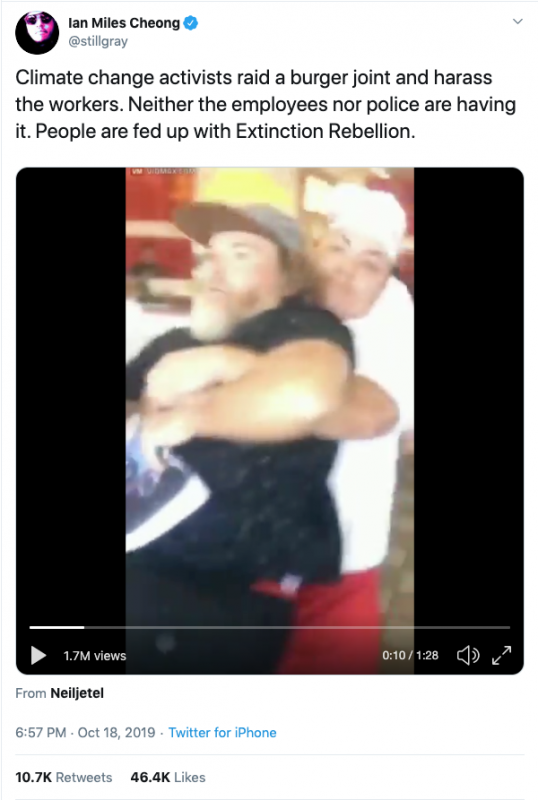 Video here.
The look on the activist's face is priceless, isn't it?
The protesters, who are said to be with Extinction Rebellion, yelled "don't touch him" and "get your hands off of me" claiming they "didn't do anything."
The In-N-Out employee let them know that he and his co-workers had a job to do — which the protester couldn't comprehend. All the obnoxious climate lover could do is yell in the employee's face with a blowhorn. 
Police arrived to the scene and to Extinction Rebellion's surprise, the cops were not on their side. One of the female protesters can be seen resisting two officers as they try to put handcuffs on her while the male protester is seen whining, saying, "she was the one who was assaulted, what are you doing?"
"That is cruel and unusual punishment," another protester yelled. "You have no right!"
The officers ignored them — as they should have — and put the woman in the back of a police vehicle. 
Climate change protesters, for the most part, seem to be some of the most obnoxious people out in the world today. How can one expect people to hear their message when all you do is inconveniently disrupt their day telling them how horrible they are, all while using a blowhorn? Weirdos.