Vice President Mike Pence has denied the rumors sparked by a recent article from The New York Times suggesting he and other top Republican officials are involved in a "shadow campaign for 2020" to defeat Donald Trump in a possible reelection bid.
Pence released a statement from his Twitter account disputing the allegations and calling them "absurd."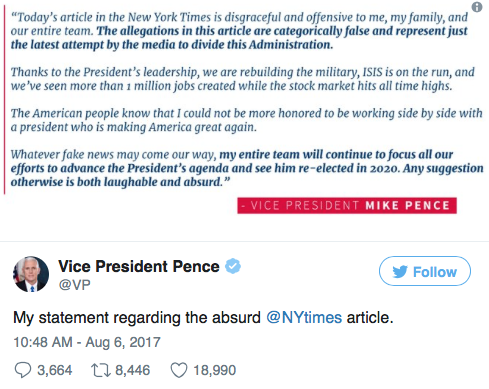 The NYT article opened by claiming that "Senators Tom Cotton and Ben Sasse have already been to Iowa this year, Gov. John Kasich is eyeing a return visit to New Hampshire, and Mike Pence's schedule is so full of political events that Republicans joke that  he is acting more like a second-term vice president hoping to clear the field than a No. 2 sworn in a little over six months ago."
Despite the backlash of the piece and the media storm that followed, Pence and his communications team have maintained that the article's suggestions are false and that the vice president doesn't have plans to run in 2020.
Thank you for supporting MRCTV! As a tax-deductible, charitable organization, we rely on the support of our readers to keep us running! Keep MRCTV going with your gift here!