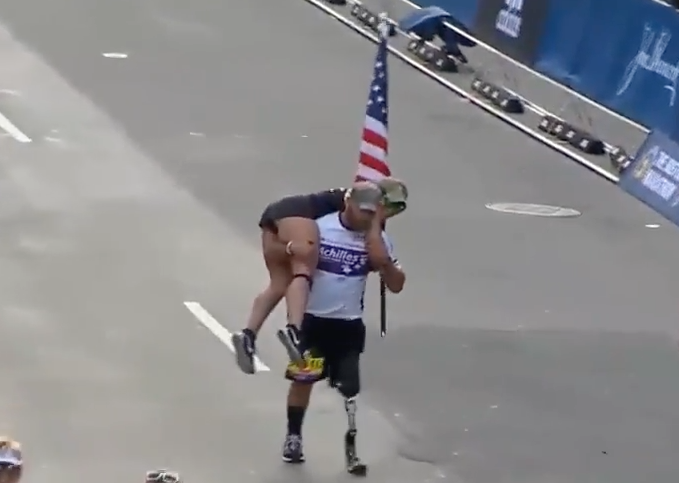 (Image: Screenshot/YouTube)
Heroes can emanate from all walks of life, but this particular hero is the gift that just keeps on giving.
Army Staff Sergeant Earl Granville is receiving a ton of attention, and rightfully so, for what he did during the Boston Marathon on Monday.
Granville could be seen around mile 26 carrying a woman on his shoulders, along with an American flag, so that she could cross the finish line. There hasn't been word yet on why the woman needed to be carried, but when it comes to marathons, injuries and cramping are commonplace. Regardless of the reason, Granville decided to put the woman, who reportedly was his running partner for the race, on his shoulders to take her the rest of the way.
Oh, and by the way, Granville did all of that with a prosthetic leg.
Granville lost his left leg in 2008 during his third deployment to Afghanistan when a roadside bomb hit the vehicle he was in.
Typically, Granville uses a hand bike to compete in marathons, but this time he chose to ditch the bike and use his two very capable legs.
Thank you for your service, SSgt. Granville, and thank you for continuing to be a hero.
Here is video of Granville's heroics: