UPDATE 11:41 P.M. EST:
The suspect is still at large despite earlier reports by local police and local media outlets of a man in custody for shooting into Immigration and Customs Enforcement (ICE) offices in San Antonio, Texas early Tuesday morning.
"The FBI said no one had been arrested in connection to the incident, despite earlier reports from San Antonio police that there was a suspect in custody," reports CBS News.
The FBI is running the investigation into the shooting incident, which it has called a "very targeted attack." 
UPDATE 6:01 P.M. EST: 
The shooting has finally become newsworthy enough for the mainstream media's attention: 
Now we just wait for the rest of the press to follow suit. 
U.S. Citizenship and Immigration Services (USCIS) Acting Director Ken Cuccinelli tweeted a photo of one of the bullet holes from inside the ICE office targeted in the shooting with the caption, "@USCIS stands with @ICE as they work to enforce our laws and keep Americans safe!"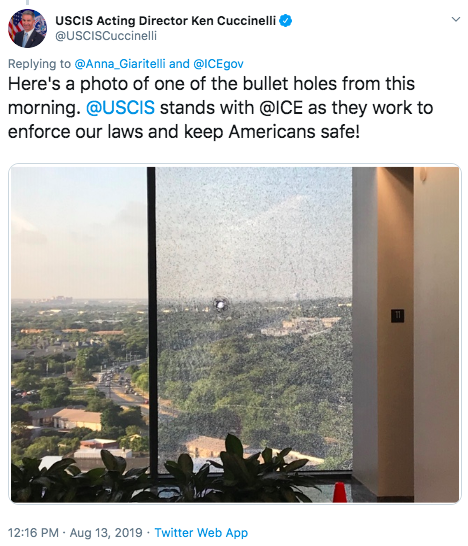 UPDATE 5:15 P.M. EST:
The FBI issued the following statement confirming local reports of another shooting nearby and condemning the shootings as "cowardly, brazen, violent acts":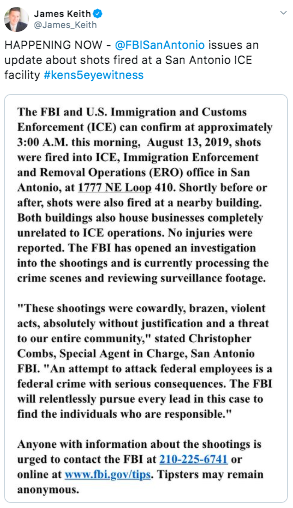 The Daily Caller says it was told by a San Antonio Police Department spokeswoman that the FBI is handling the case.
ORIGINAL STORY: 
Police have arrested a man accused of shooting at an Immigration and Customs Enforcement (ICE) office in San Antonio, Texas.
The shooting took place early Tuesday morning around 3 a.m.  
According to local station WOAI, "Investigators say that multiple shots were fired on two floors targeting ICE officials. No one was hit, but windows were broken in the building. One person was injured, it's not clear how they were, though."
FBI believe there "is no question" this was "a very targeted attack."
"All of the shots that we have found are on the floors where ICE had offices," San Antonio FBI Special Agent in Charge Chris Combs said Tuesday, reports WOAI. "This is no question a very targeted attack. It's not a secret facility. You can go online, it's out there. So they did some research, they knew what floors ICE was on, they knew what buildings they were and they hit those."
The incident and the motive behind it remain under investigation.
ICE has condemned the "political rhetoric and misinformation" disseminated by "various politicians, media outlets and activist groups" that target federal immigration enforcement:
"This attack at the U.S. Immigration and Customs Enforcement's (ICE) Enforcement and Removal Operations (ERO) Field Office in San Antonio is completely without justification," said ICE ERO San Antonio Field Office Director Daniel Bible in a statement. "Political rhetoric and misinformation that various politicians, media outlets and activist groups recklessly disseminate to the American people regarding the ICE mission only serve to further encourage these violent acts."
"ICE officers put their lives on the line each and every day to keep our communities safe," he continued. "This disturbing public discourse shrouds our critical law enforcement function and unnecessarily puts our officers' safety at risk."
This comes one month after an attack on an ICE detention center in Tacoma, Washington, by an Antifa militant. 
This story is developing. Stay tuned to MRCTV for updates.   
(Cover Photo: Pixabay / Geralt)