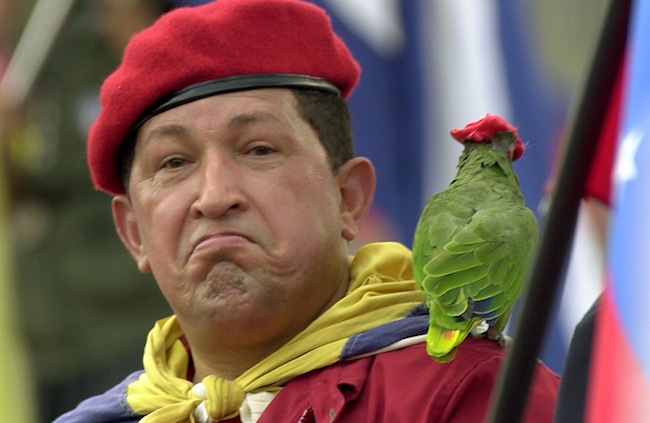 The Venezuelan Embassy in Washington, DC will unveil a new library in honor of deceased dictator Hugo Chavez Tuesday. The ceremony will take place on July 28th to commemorate what would have been Chavez's birthday.
According to a page that informs local liberal activists about events in the DC area, the library will include several of Chavez's favorite books and is "....aimed at becoming a reference point for the community and for those interested in learning more about President Hugo Chávez's political thinking."
Additionally, the ceremony will include a mural of Chavez which was painted by ".....dozens of DC residents who wanted to show their affection for a figure who meant a great deal to the peoples of the world."
Chavez was elected president of Venezuela in 1998 and became a fierce critic of the United States, once comparing, President George W. Bush to the Devil.  
During his tenure, the Venezuelan economy collapsed as a result of his socialist policies.  His policies are blamed for crippling private businesses and making the nation's economy even more dependent on its oil reserves.
At one point in 2013, things got so bad that nation ran out of toilet paper. 
It is unclear whether or not there will be toilet paper available at the embassy for the library's opening ceremonies. But, if you're a Chavez admirer and wish to attend the event, it might be safe to bring a roll of your own.
MRCTV Reader,
The liberal media are terrified of the truth, especially when it leads to uncomfortable questions about their own leftist worldview.
MRCTV is the multimedia division of MRC featuring original content and aggregated videos of the news, people, and events conservatives care about.
MRCTV relies on the support of our loyal readers (and video viewers) to keep providing the news and commentary that matter to the American people, not just stories that prop up the liberal agenda.
Make a donation today. Just $15 a month would make a tremendous impact and enable us to keeping shining the light where the liberal media are afraid to tread.
— The MRCTV Team
DONATE
Connect
Sign up for our MRCTV newsletter to receive the latest news.
Sponsored Links