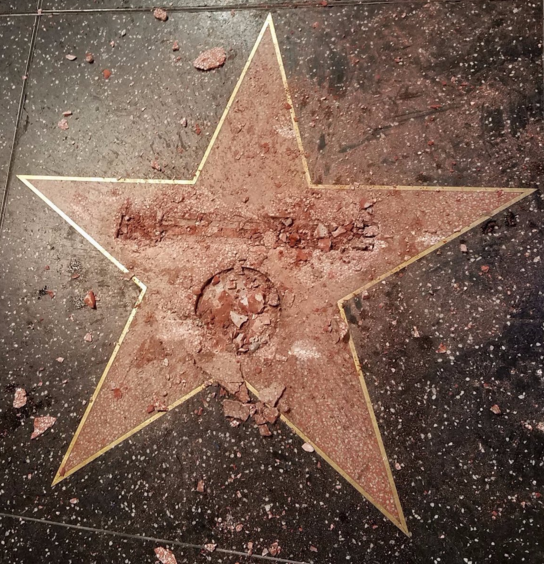 (Image via Twitter)
Donald Trump's star on the Hollywood Walk of Fame was defaced early Wednesday morning when a man dressed as a construction worker took a sledgehammer and a pick-ax to the symbol.
First reported by witness and Deadline Hollywood editor Dominic Patten, the name of the man responsible is James Otis.
As to his motive, he told Deadline that he wanted to remove the star so as to auction it off and raise money for the women who have recently accused Trump of sexual assault, claims which Trump refutes as "false" and "outright lies."
FOX Los Angeles reports that Otis found it too difficult to remove the star in one piece, so he ended up using a sledgehammer and pick-ax to hack it away.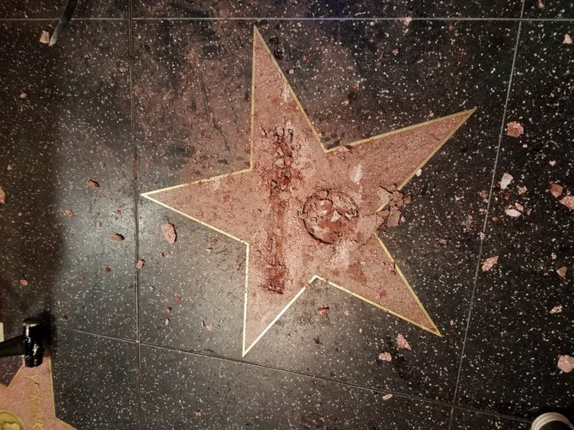 (Image via Twitter)
"It was very difficult," he said. "The stone was like marble -- hard to get through. It would have taken an hour."
When asked about his likely arrest for vandalizing the star, Otis said that he's not scared of going to jail.
"I'm not frightened of jail and I'm certainly not frightened of Mr. Trump," said Otis.
"What punishment I get is fine," he said.
This is not the first time someone attempted to deface "The Apprentice" host's star. 
Back in July, a man surrounded the star at 6801 Hollywood Boulevard with a tiny wall complete with barbed wire and "Keep Out" signs in protest of Trump's plan to build a wall along the U.S.-Mexico border.