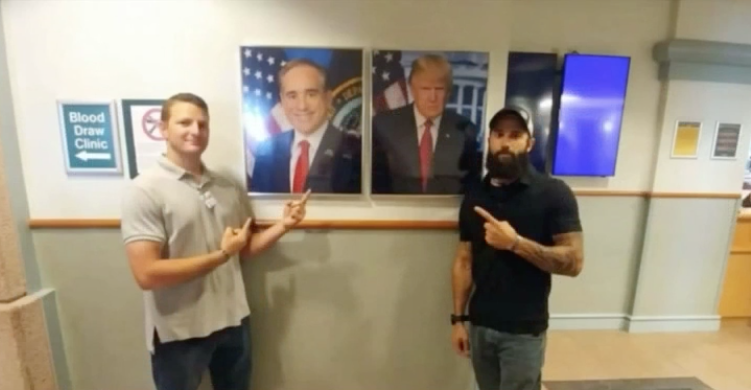 It's almost as if people who work for Veteran's Affairs facilities want to be viewed as incompetent.
If you walk into any VA facility around the country, there should be portraits of the President of the United States and the Secretary of Veteran's Affairs. But not, apparently, at the facility in West Palm Beach, Fla.
The frame where these portraits are typically displayed were empty, and since President Trump has been in office for nearly two months, one congressman took action into his own hands.
Former veteran Rep. Brian Mast joined a group of fellow veterans in bringing both the portrait of President Trump and the portrait of VA Secretary David Schulkin to the West Palm facility in order to place them where they belong.
"Two blank holes, it's been 60-something days now," said veteran John Rourke. "The Veterans Administration has been asked about it a few times, the local VA hospital has and they haven't had any real reason other than they didn't have the picture, which is readily available."
But what employees at the VA did next was pretty ridiculous.
Shortly after Mast left the VA hospital, the portraits that the congressman and other veterans had proudly hung up were taken down.
According to CBS 12 - West Palm Beach:
A VA spokeswoman tells CBS 12 News , the congressman's actions and the actions of the veterans who accompanied him were "inappropriate" and the cell phone video was not legally obtained. Additionally, the spokeswoman said the portraits have been removed because they have not been authenticated and portraits on display at the VA need to come from the central office.
If what the congressman was doing was not authorized, and cell phone video "was not legally obtained," why did the oh-so-brave employees at this particular VA wait until Mast left to take down the picture? If the congressman and veterans were going against regulations, and possibly the law, then they should've taken action while Mast was there so they could offer an explanation. 
However, that's not what they did. So I call on Rep. Mast to go back to that hospital and hang the portraits again, every day, until the employees in West Palm do their jobs and fill the frames with the approved and customary portraits.
For video of this story, watch below: