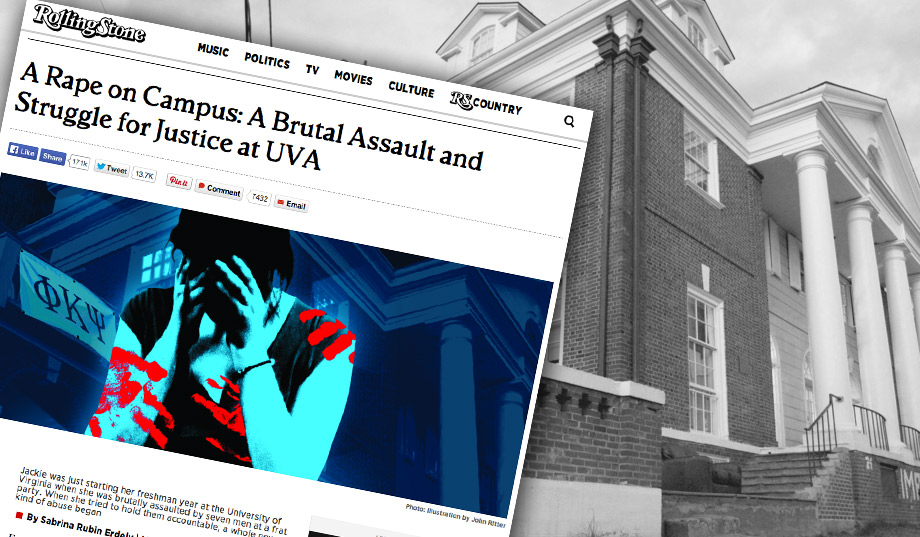 In a press conference on Monday, Charlottesville Police released findings from the criminal investigation into the details of a Nov. 19, 2014 Rolling Stone article describing an alleged gang rape at University of Virginia. 
Charlottseville Police suspended the UVA rape investigation, unable to "conclude to any susbstantive degree" that such an incident had actually occurred. 
During the investigation, police spoke with administrative staff and the alleged rape victim Jackie, looked at phone records and social calendars, and interviewed students and fraternity members. They found that the sexual act described by Jackie to Dean Eramo was "inconsistent" with "the facts and circumstances as they were described" in the article; moreover, that there was "no evidence that a party had taken place."
"Suffice it to say, we were unable to find any basis of fact that there was even an event at that particular fraternity house," said Charlottesville Police Chief Tim Longo.
"Unfortunately, we're not able to conclude to any substantive degree that an incident that is consistent with the facts contained in that article occurred at the Phi Kappa Psi fraternity house or any fraternity house for that matter."
"That doesn't mean something terrible did not happen to Jackie on the evening of September 28th, 2012," he noted. "We are just not able to gather sufficient facts to conclude what that something may have meant."
"So this case is not closed…" Police Chief Longo said.
"It's suspended, until such time as we are able to gather more information, or at such time until someone comes forward and provides us with more information."  
Watch a clip from the briefing below. 
Rolling Stone magazine plans to publish an external review of the controversial article, which sparked a heated national debate over sexual assault on college campuses, reported The New York Times. 
The review will focus "on the editorial process," according to Steve Coll, Dean of the Columbia University of Graduate School of Journalism who is reportedly responsible for examining the article. 
To watch the full video of the conference, click below.