People on Twitter are outraged after the social media platform reportedly failed – or, at worst, declined to – comment on an image one user posted showing a photoshopped gun aimed at Sen. John McCain's daughter, Meghan McCain, as she wept over her father's casket.
This photo, posted by user @austindelafrog at 4:35 p.m. on Thursday along with the caption "America, this ones (sic) for you," was reportedly up on the site for hours and had been reported dozens if not hundreds of times for violating the platform's policy against violence.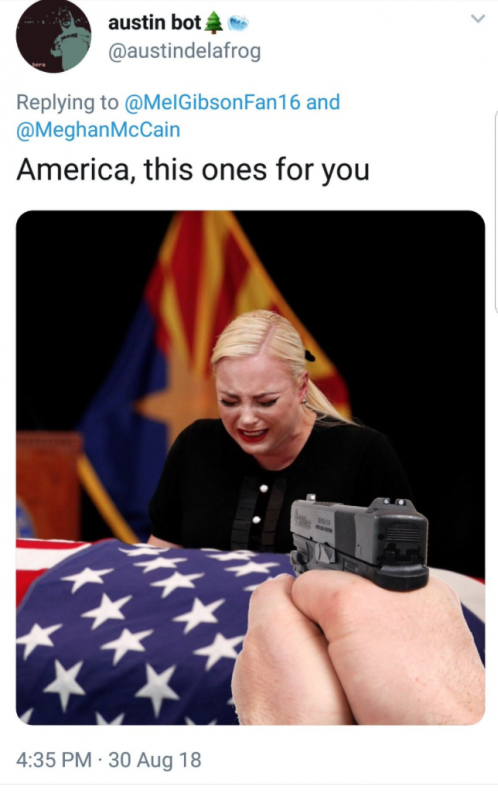 Ben Domenech, McCain's husband and a publisher over at The Federalist, said he finally stepped in to get the attention of Twitter CEO Jack Dorsey when it became apparent that the site wasn't doing anything to address the photo. That was at 2:22 a.m. Friday morning -- nearly 12 hours later.
 
Hey @jack, this has been up for half a day. It has been reported 100+ times. No response. Tell me why this is cool by you. pic.twitter.com/8InXkfsWTj

— Ben Domenech (@bdomenech) August 31, 2018

Sometime later, the tweet and its accompanying photo finally disappeared – not because of Twitter, but because the original user eventually set his account to "private."
 
It took my hours later tweet to finally get a reaction. Did not want to elevate it but that is what Twitter requires apparently.

— Ben Domenech (@bdomenech) August 31, 2018
 
Oh, and the reaction was from the guy, not Twitter. Looks like he set his account to private.

— Ben Domenech (@bdomenech) August 31, 2018

The account, while private, was still up and active as of 9:45 a.m. ET on Friday.
Twitter has come under fire this week for failing to address open threats made against some conservatives, despite the social media giant's pledge to remove posts or freeze accounts that violate their policy against harassment or calls for violence – and despite their habit of immediately suspending or banning right-leaning users for stepping even the slightest bit out of line.
Earlier this week, Twitter made headlines for telling prominent conservative and NRA spokeswoman Dana Loesch that an open threat to murder her children didn't violate Twitter's community rules. The platform, who swears up and down that there's no left-wing bias in their review process, then reversed their decision the next day and suspended the guy's account – but only after the story had been picked up by several national conservative news outlets. 
Twitter then unlocked the account after a mere 48 hours.