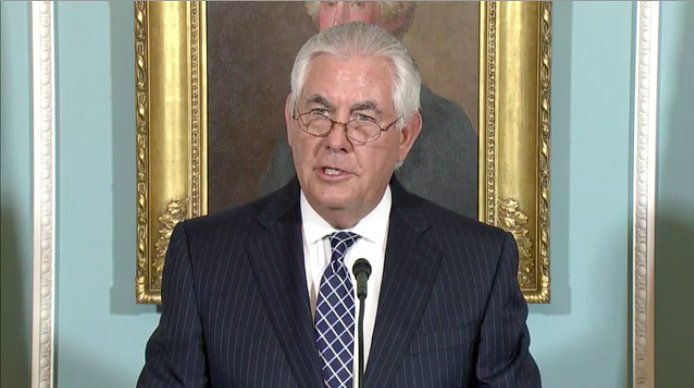 Secretary of State Rex Tillerson announced the release of the State Department's annual religious freedom report on Tuesday.
During his remarks, he slammed countries such as China, Iran, and Saudi Arabia for using "discriminatory laws to deny their citizens freedom of religion or belief."
"Religious persecution and intolerance remains far too prevalent," Tillerson said. "Almost 80% of the global population live with restrictions on or hostilities to limit their freedom of religion. Where religious freedom is not protected, we know that instability, human rights abuses, and violent extremism have a greater opportunity to take root. We cannot ignore these conditions."
In China, while the constitution states its citizens have freedom of religious belief, there are only five state-sanctioned religions: Buddhism, Taoism, Islam, Catholicism, and Protestantism.
The report cites abuse, imprisonment, torture, and harassment of both registered and unregistered religions. Examples include how a pastor of an unregistered Christian church and his wife were reportedly buried alive while protesting the demolition of their church, how dozens of Falun Gong members died while in detention, and how a Catholic priest suspiciously disappeared in 2016.
"The government tortures, detains, and imprisons thousands for practicing their religious beliefs," said Tillerson.
"Policies that restrict Uighur Muslims' and Tibetan Buddhists' religious expression and practice have increased," he noted.
In Iran, Christians, Baha'is, Sunni Muslims and other minorities face persecution for their faith. Many are jailed and sentenced to death "simply for abiding by their faith," Tillerson said. 
Religious persecution in Saudi Arabia remains rampant, as the government refuses to recognize the right of non-Muslims to publicly practice their faith.
The state also convicts and imprisons people for apostasy, atheism, violating Islamic values and moral standards, and insulting the state's interpretation of Islam, the report details. 
"Of particular concern are attacks targeting Shia Muslims, and the continued pattern of social prejudice and discrimination against them," said Tillerson. "We urge Saudi Arabia to embrace greater degrees of religious freedom for all of its citizens."
Other countries the secretary of state pointed out include Turkey, Pakistan, and Sudan.
"Unfortunately, the list goes on," he said.
"No one should have to live in fear, worship in secret, or face discrimination because of his or her beliefs," said Tillerson. "As President Trump has said, we look forward to a day when, quote, 'people of all faiths, Christians and Muslims and Jewish and Hindu, can follow their hearts and worship according to their conscience,' end quote. The State Department will continue its efforts to make that a reality."
The 2016 Annual Report on International Religious Freedom analyzes nearly 200 countries and territories and discusses the U.S. government's policies toward them.
In China, for example, which has been designated a "Country of Particular Concern" since 1999, U.S. embassy officials regularly urge Chinese government officials through dialogue and events "to implement stronger protection for religious freedom and to release prisoners of conscience," the report details. 
Unfortunately in Iran, the U.S. "has no diplomatic relations with the country, and therefore did not have regular opportunities to raise concerns directly with the government over its religious freedom abuses and restrictions."
The report also condemns ISIS as one of the biggest threats to religious freedom across the globe. 
Thank you for supporting MRCTV! As a tax-deductible, charitable organization, we rely on the support of our readers to keep us running! Keep MRCTV going with your gift here!