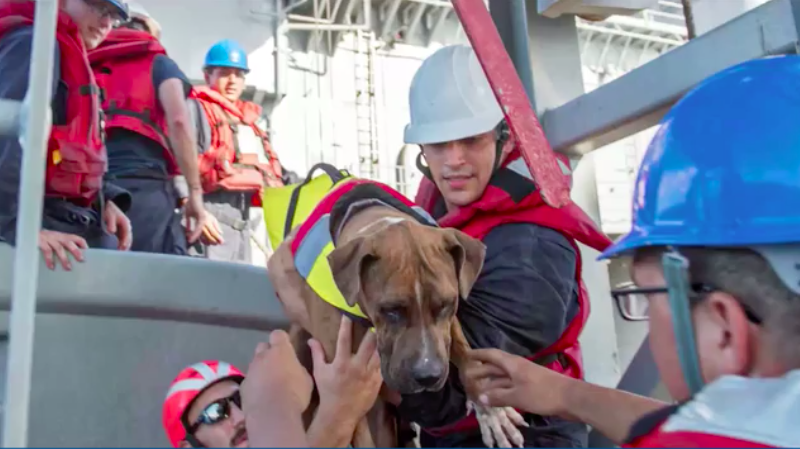 Image via Screenshot
The U.S. Navy on Wednesday rescued two Americans and their dogs who were lost at sea for almost five months after their boat lost power in a storm, reports USA Today.
Honolulu residents Jennifer Appel and Tasha Fuiaba took their boat out on the sea for a spring trip to Tahiti but their engine failed during a storm on May 30. They thought they could reach land by sail but ended up getting lost and way off course.
They issued daily distress calls, but to no avail. They were too far from other ships or land for the calls to be received.
"A Taiwanese fishing boat finally discovered them Tuesday, 900 miles southeast of Japan and thousands of miles from Tahiti," according to USA Today. "The crew contacted the U.S. Coast Guard at Guam."
"Help arrived Wednesday morning in the form of the USS Ashland, a 610-foot-long amphibious docking landing ship, the Navy said [on Thursday]. The battered boat was determined to be 'unseaworthy,' and the couple and their dogs were brought aboard the Ashland."
Luckily, Appel and Fuiaba had water purifiers and more than a year's worth of food on board that held them over for the duration of their time overseas. 
Ashland commanding officer Steven Wasson was humble about his ship's rescue efforts, saying simply, "the U.S. Navy is postured to assist any distressed mariner of any nationality during any type of situation."
"They saved our lives," Appel said after the rescue. "The pride and smiles we had when we saw (the ship) on the horizon was pure relief."
For more, check out the USA Today report below.
Thank you for supporting MRCTV! As a tax-deductible, charitable organization, we rely on the support of our readers to keep us running! Keep MRCTV going with your gift here!