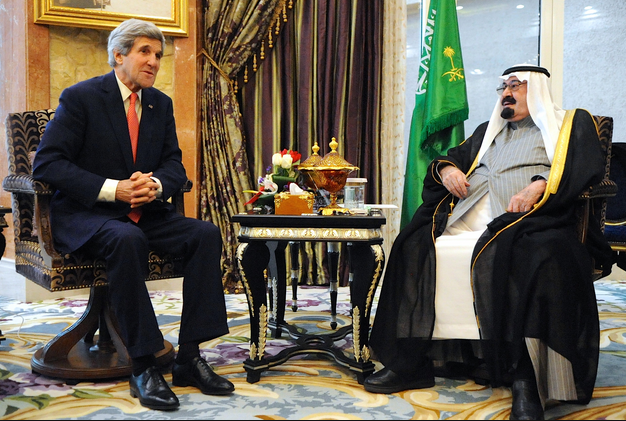 The Department of Defense is holding an essay contest "in honor of Saudi Arabia's King Abdullah Bin Abdul-Aziz," a King that oversaw a country that condemns a blogger to 1,000 lashes, suppresses dissent and women's rights, and conducts regular beheadings.
Even so, the Defense Department can't say enough good things about the recently deceased Saudi King.
"The essay competition is a fitting tribute to the life and leadership of the Saudi Arabian monarch," said Army Gen. Martin E. Dempsey, Chairman of the Joint Chiefs of Staff. "In my job to train and advise his military forces, and in our relationship since, I found the king to be a man of remarkable character and courage."
Well, only if you count beheadings as courageous.
King Abdullah and Saudi Arabia's rulers "consolidated their iron grip on power through a systematic and ruthless campaign of persecution against peaceful activists in a bid to suppress any criticism of the state," reports Amnesty International. The group says that Saudi Arabian authorities have held political protestors in secret, without charges, for weeks at a time.
And that's just the beginning human rights abuses in the Kingdom overseen by the "courageous" King Abdullah.
According to Human Rights Watch, Saudi Arabia routinely:
Suppresses free speech, peaceful demonstrations, and has "pressed on with arrests, trials, and convictions of peaceful dissidents," according to Human Rights Watch.
 Violatea the rights of Saudi women and girls and foreign workers.
 Convicts human rights defenders for peaceful expression and/or assembly demanding 
You don't have to take their word for it.
The U.S. State Department says Saudi Arabia is a country where:
"Citizens lack the right and legal means to change their government"
There are "pervasive restrictions on universal rights such as freedom of expression, including on the internet."
Saudis do not have "freedom of assembly, association," or even "movement"
The government frequently violates its citizens privacy
Saudis are denied "due process" and are subjected to "arbitrary arrest and detention."
Saudis are not free to practice religion (other than the state-sponsored one)
"Women, children and noncitizen workers" lack equal rights
The Saudi government uses "torture and other abuses… holding political prisoners and detainees"
The country uses "violence against women" and has problems  with human trafficking
Given his kingdom's egregious human rights violations, the DOD's choice of King Abdullah as subject for an essay contest seems .... a little odd.
Of course Maj. Gen. Dempsey's boss, President Obama, recently called King Abdullah a "reformer."