Here's a mind-blowing concept: when people make more money, they give more to charity.
It's almost as though the free market enables people to help others, or something.
According to Giving USA's Annual Report on Philanthropy, published by Indiana University Lilly Family School of Philanthropy, Americans' charitable giving hit a record $410 billion in 2017 – up more than 5 percent from 2016 totals. It's also the first time in history that giving has topped $400 billion.
In fact, the report notes that individuals, businesses and foundations together gave more to charity in 2017 than the entire GDP of Ireland and Israel combined.
Individuals were responsible for $281 billion – about 72 percent – of the total charitable giving in 2017. Total giving by individuals actually increased nearly 4 percent from 2016, marking the single largest increase among all four donor categories. The total was also bolstered by some pretty hefty gifts from the uber-wealthy, including $2 billion from Facebook CEO Mark Zuckerburg and another $1 billion from Dell Technologies CEO Michael Dell, the AP adds.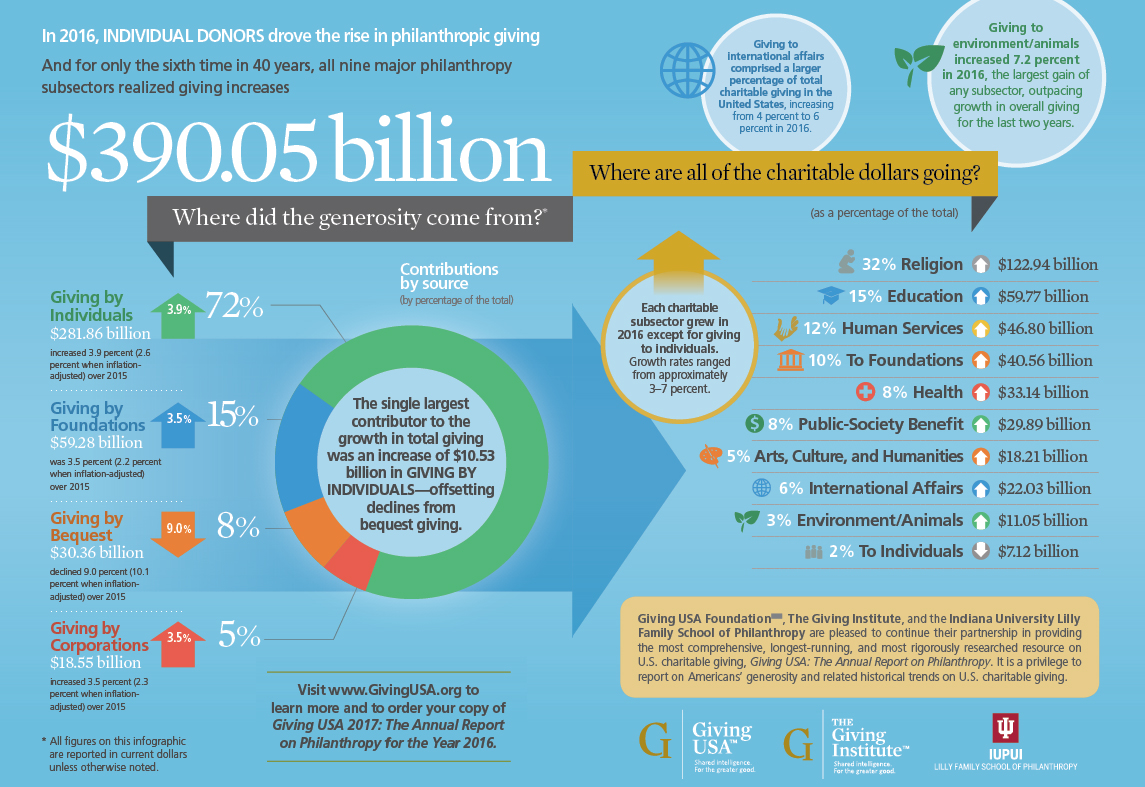 Contributions from foundations made up about 15 percent, while corporations gave about 5 percent.
Roughly a third of all charitable donations were given to churches and religious institutions. Another $60 billion was given to education, and $47 billion went to human services.
Giving USA found that for only the sixth time in the past four decades, all nine major subcategories of charitable giving saw increases from the previous year.
MRCTV Reader,
The liberal media are terrified of the truth, especially when it leads to uncomfortable questions about their own leftist worldview.
MRCTV is the multimedia division of MRC featuring original content and aggregated videos of the news, people, and events conservatives care about.
MRCTV relies on the support of our loyal readers (and video viewers) to keep providing the news and commentary that matter to the American people, not just stories that prop up the liberal agenda.
Make a donation today. Just $15 a month would make a tremendous impact and enable us to keeping shining the light where the liberal media are afraid to tread.
— The MRCTV Team
DONATE
Connect
Sign up for our MRCTV newsletter to receive the latest news.
Sponsored Links