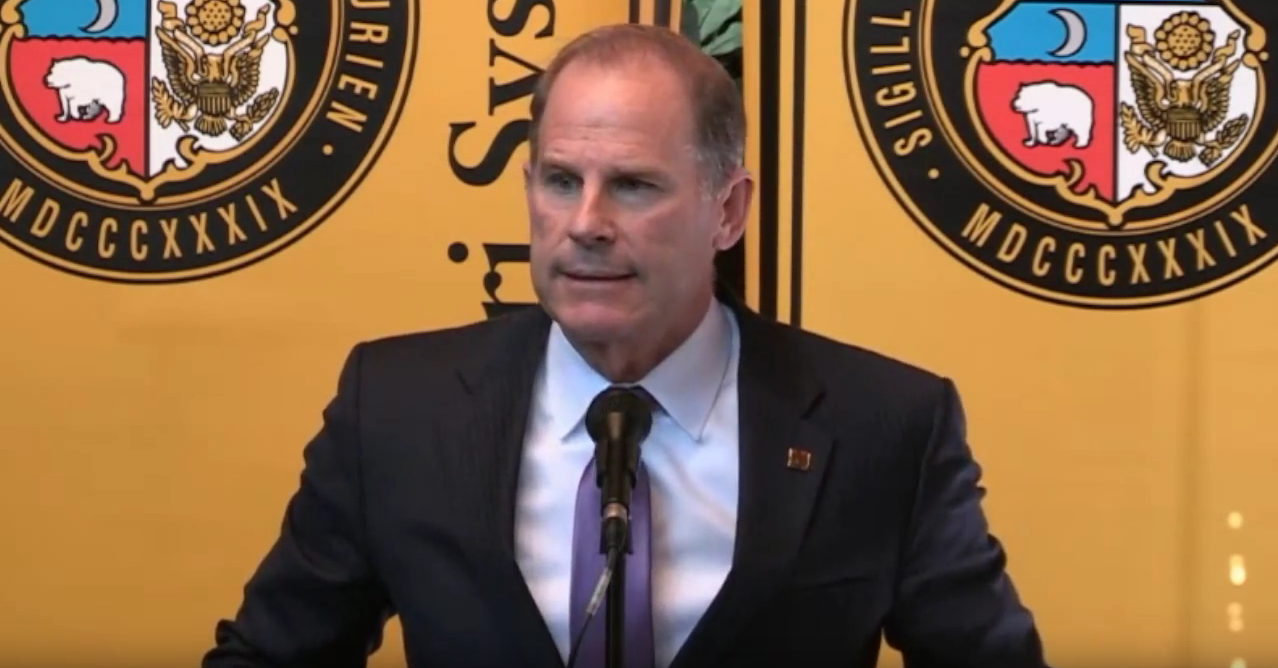 The president of the University of Missouri system, Tim Wolfe, has resigned on Monday after being accused of not doing enough to address racism on campus.
Wolfe's resignation comes after months of escalating racial tensions. On Oct. 20, an organization known as "Concerned Student 1-9-5-0," penned a "list of demands" addressed to the university. Among the demands were that Wolfe write a "handwritten apology" in which he acknowledges his "white male privilege" and "recognize[s] that systems of oppression exist."
The demands also called for Wolfe's resignation, a requirement that all future UM presidents and chancellors be chosen "by a collective of students, staff and faculty of diverse backgrounds," an increase in the percentage of black faculty and staff, a plan to increase the retention rate for minorities, and hiring more mental health professionals "of color."
In a letter on Nov. 2, graduate student Jonathan Butler announced a hunger strike. Butler wrote, "Since Mr. Wolfe joined the UM system as president in 2012, there have been a slew of racist, sexist, homophobic, etc. incidents that have dynamically disrupted the learning experience for marginalized/underrepresented students at the University of Missouri."
Butler's grievances include "graduate students being robbed of their health insurance" and Planned Parenthood services being "stripped from campus."
Wolfe met with Butler on Nov. 6. Wolfe denounced racism on campus as "unacceptable" and called it a "long-standing systemic problem which affects our family of students, faculty and staff."
"I truly want all members of our university community to feel included, valued and safe," Wolfe said.
Wolfe also apologized for an incident in which Butler was allegedly bumped by a car.
The apology and admission of racism on campus, however, was not enough.
More than 30 UM football players announced they would be boycotting games and practices until Wolfe resigns.
A tweet on the athletic strike reads, "The athletes of color on the University of Missouri football team truly believe 'Injustice Anywhere is a threat to Justice Everywhere'[.] We will no longer participate in any football related activities until President Tim Wolfe resigns or is removed due to his negligence toward marginalized students' experienced. WE ARE UNITED!!!!!"
During his resignation speech on Nov. 9, Wolfe said, "My motivation in making this decision comes from love. I love MU, Columbia—where I grew up—the state of Missouri. I have thought and prayed about this decision and it's the right thing to do."
"I take full responsibility for this frustration and I take full responsibility for the inaction that has occurred," Wolfe stated.
Wolfe's resignation has been endorsed by Democrat Missouri Gov. Jay Nixon. Nixon called Wolfe's resignation a "necessary step toward healing and reconciliation." He also stated, "There is more work to do, and now the University of Missouri must move forward – united by a commitment to excellence, and respect and tolerance for all."
Missouri journalism student Jalen Mosby warns the next UM president, "We don't play. Come correct or not at all."