A teaching assistant at the University of Georgia is feeling the burn after reportedly writing a troublesome Facebook post about killing white people, according to Campus Reform.
Irami Osei-Frimpong, a philosophy TA at UGA, wrote the racist comment on Wednesday while participating in a conversation on a UGA Facebook page. The comment has been deleted, but Campus Reform obtained a screenshot.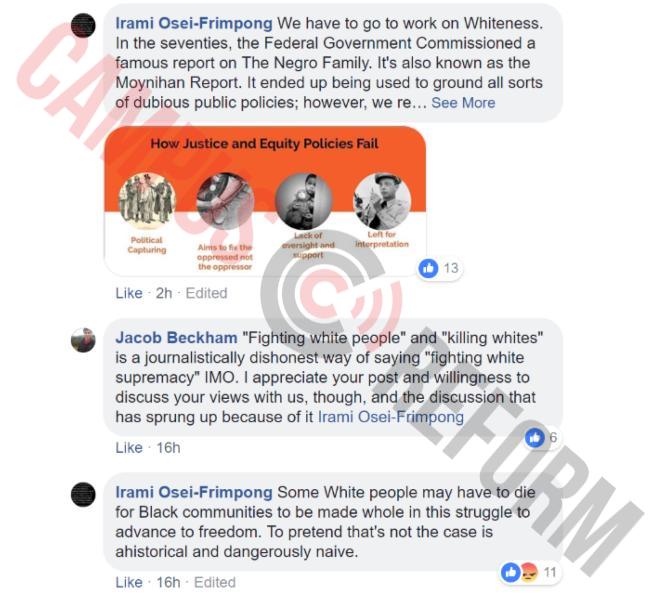 In the post, Osei-Frimpong wrote, "Some White people may have to die for Black communities to be made whole in this struggle to advance to freedom." The TA went on to add, "To pretend that's not the case is ahistorical and dangerously naive."
He defends his statement in a blog post, saying, "First of all, killing some white people isn't genocide; it's killing some white people. We had to kill some white people to get out of slavery. Maybe if we'd killed more during the 20th century we still wouldn't talk about racialized voter disenfranchisement and housing, education, and employment discrimination.This should not be controversial. Some white people are really bad, and America abetted them reproducing that badness in their white progeny."
It's no surprise, but this incident doesn't appear to be the teaching assistant's first expression of racist actions, as Campus Reform reports:
"Last semester, at a Young Democrats meeting, Frimpong compared Southern whites in America to "sociopaths" and "autistic kids." Later on, in November, he called for Democrats to "wage war on the white electorate" and wrote that white "institutions" that "make crappy white people" such as churches, schools, and families must be "dismantled." Facebook subsequently gave Osei-Frimpong a temporary suspension."
Just this week, Osei-Frimpong had another racist outburst on Twitter, saying, "Fighting White people is a skill. Really, it's one reason I'm in support of integrated schools. You have to get used to fighting White people. It takes practice."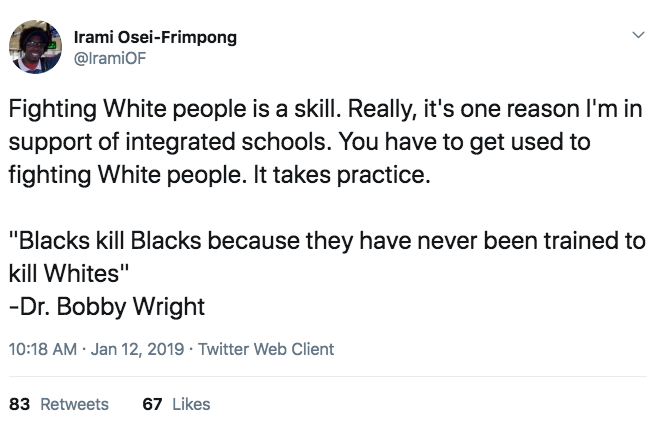 This guy just doesn't quit.
Even more interesting is UGA hasn't taken any action against the TA, Campus Reform reached out to a UGA spokesperson who said Osei-Frimpong was just expressing his "personal opinion," in his "personal capacity on a private platform. 
Wow! What a liberal way to excuse leftist behavior. I imagine it's because they've taken to the lie that no one can be racist towards whites. I mean, that is one of the things the left seems to teach quite often, there's really no surprise they're allowing their faculty to get away with these actions.