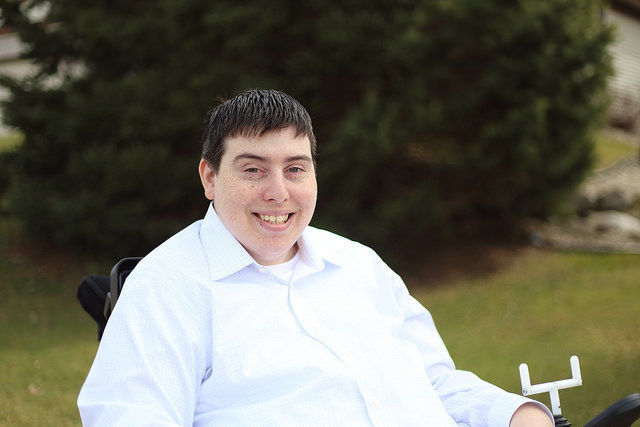 (Image: Jimmy Anderson for Assembly)
Leave it to a union boss to try and bully a candidate for public office, but this case of outright mob tactics has gone too far.
According to the Milwaukee Journal-Sentinel, one union group is actually going after a disabled Democratic gubernatorial candidate in Wisconsin in a pretty vicious way:
A third-party group calling itself the Construction Trades Coalition is attacking candidate Jimmy Anderson for not signing the petition to recall Republican Gov. Scott Walker back in late 2011. The winner of the primary is all but assured of representing the 47th Assembly District because no Republican is running.
I know what you're probably thinking: "So? Groups run attack ads all the time."
First, let's hear what the ad had to say:
But to take on the governor, we need more than talk. When it came time to sign the recall petition, Jimmy Anderson didn't sign, refusing to give Walker his walking papers[…]He may claim to be strongest progressive in the race, but voters can't trust Jimmy Anderson to stand up to Scott Walker.
Oh, and by the way, Anderson is paralyzed from his chest down. He literally cannot walk or stand, nor can he physically sign a petition. 
Anderson was involved in a 2010 car crash that not only paralyzed him, but took the lives of both his parents and his brother. He was left unable to hold a pen at first, leaving him physically unable to sign the petition to recall Walker.
"Whenever people collecting signatures would approach me, I would tell them that of course I would love to sign it but I just physically can't," Anderson said in a statement.
The man behind the ads?
The listed contact for the Construction Trades Coalition is Michael Ervin, an organizer for the operating engineers. His union just gave $20,000 to the Construction Trades Coalition on July 21, the coalition's only recent donation.

That would be more than enough to cover the $10,000 ad buy for the radio spot.

The operating engineers are also endorsing one of Anderson's opponents, having given $1,000 to Fitchburg Ald. Julia Arata-Fratta on July 11.
To be fair, Arata-Fratta did not authorize or approve of this ad. But, if you thought that this horrendous ad released in poor taste would make Ervin backtrack, then you should think again. In fact, he doubled down.
Ervin replied to the controversy in a statement he gave via email to The Capital Times.
"Anderson's use of his disability as an excuse for not signing the recall petition should be offensive to everyone with a disability and the voters of the 47th Assembly district," Ervin wrote.
While some people can try and buy elections, even someone as well-funded as Michael Ervin clearly can't buy class.