Stress of having to take actual responsibility for your own life got you down? Burdened by the overwhelming pressure of having to attend four classes while working a part-time job outside the comfort of your parents' house?
Here's a real, factually accurate sentence written in 2017 America that's just for you: the University of Massachusetts-Amherst is using Care Bears to help stressed-out, adult college students.  
Brad Polumbo, a student at Mass, tweeted a photo of a display decorated with Care Bears posted in one of the university's dorms, theoretically to help fully grown adults who apparently can't remember how to tie their own shoes.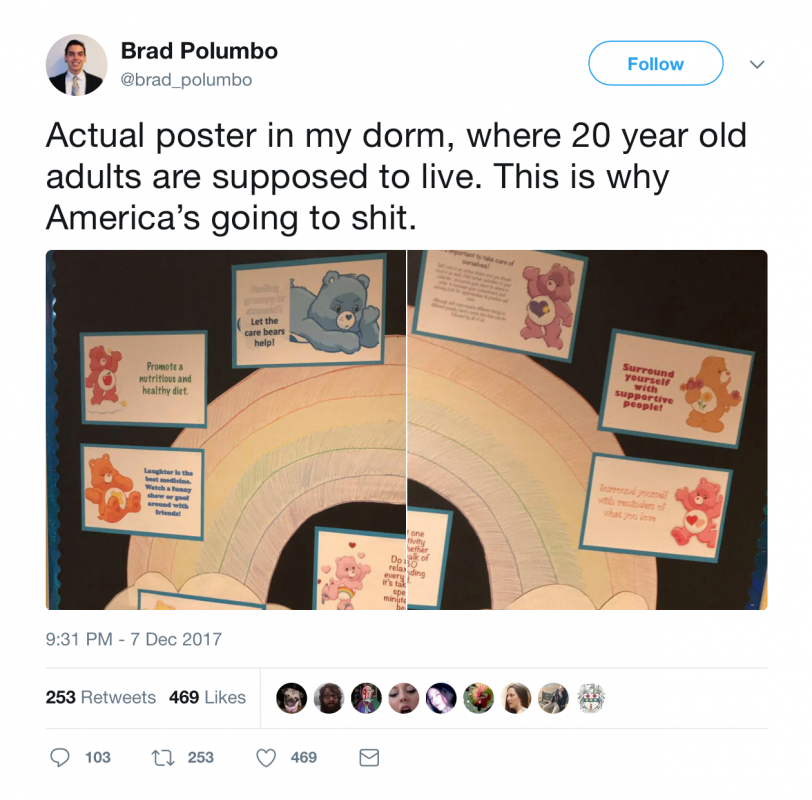 "Get plenty of sleep!" reminds one Care Bear.
"Make time for FUN!" says another.
Through the use of cuddly stuffed animal cartoons originally designed to placate overtired four-year-olds, UMass also reminds students to "surround yourself with supportive people" and "reminders of what you love," and to "promote a healthy and nutritious diet."
In a clear and inexcusable oversight, the UMass display omits reminders to always wash behind your ears, share your toys with the other kids in the sandbox, and, if you get a boo-boo, have your mommy kiss it and make it all better.
Perhaps most insulting is that the display was erected in Birch Hall, a dorm building for students at the school's Honors College, according to Campus Reform.