Wherever there's a Chick-fil-A — especially a new one — you'll find LGBT protesters demanding it be shutdown. But usually the groups never really seem to succeed...except in one recent case in the United Kingdom.
Chick-fil-A opened their first restaurant in Reading's Oracle shopping centre in the U.K. on Oct. 10 and despite seeing success as usual, the company encountered a gay rights group that wouldn't let up. 
Reading Pride petitioned the mall and a spokeswoman responded to their complaints saying they would not extend the restaurants "six-month pilot period" (lease) because that was "the right thing to do." 
As you may already be aware, LGBT groups attack the fast food chain because Chick-fil-A's owner supports traditional marriage, and gay rights advocates just can't seem to understand that not everyone is going to be on board with them. Because of this, they protest to end the "heinous" production of chicken sandwiches. 
"Based on the following, we are staunchly opposed to @ChickfilA setting up shop in the UK at @OracleReading and certainly in #rdguk," the organization tweeted. "The chain's ethos and moral stance towards #LGBTQ people goes completely against our values, and that of the UK."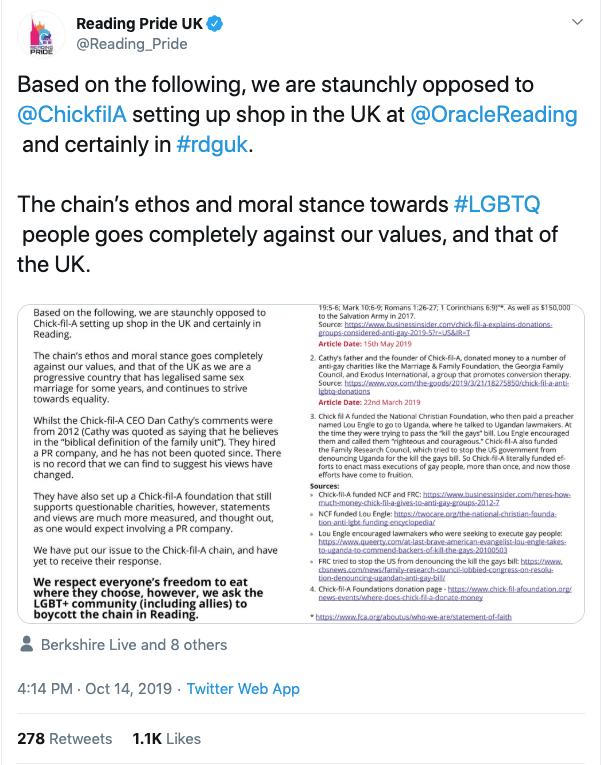 According to the BBC:
The Oracle said: "We always look to introduce new concepts for our customers, however, we have decided on this occasion that the right thing to do is to only allow Chick-Fil-A to trade with us for the initial six-month pilot period, and not to extend the lease any further."

Reading Pride said The Oracle's decision was "good news", adding the six-month period was a "reasonable request... to allow for re-settlement and notice for employees that have moved from other jobs".
Nevertheless the organization says they will continue protesting Chick-fil-A until they leave the location. 
Chick-fil-A's response:
"We have been very pleased with the lines since opening Oct. 10 and are grateful for customer response to our food and our approach to customer service," the company said on Saturday, according to The New York Times. "We mutually agreed to a six-month lease with the Oracle Mall in Reading as part of a longer term strategy for us as we look to expand our international presence."
Why can't people just leave one of the best fast food restaurants with the best customer service alone?
Here's the BBC's bias take on the restaurant's opening: