I'm just going to say this upfront — women don't have penises. If you're offended by that biological sentence, I'm not sorry. When someone can get fired from multiple positions for conveying the same message that has been overwhelmingly accepted as fact since there were people, it's way past time to worry about who you're offending.
An assistant editor for a Durham University philosophy journal was fired from his position after retweeting a Twitter post with the caption, "RT [retweet] if women don't have penises." The post also showed a screenshot of a Spectator blog titled, "Is it a crime to say 'women don't have penises'?"
Twenty-four-year-old postgraduate student Angelos Sofocleous retweeted the post in question and was not only fired from his assistant editor position from a university journal and from the school's online magazine, but he was also "forced to resign as president of free speech society Humanist Students," according to the Daily Mail.
That's right! Sofocleous was essentially fired from a "free speech society" for something he said. Is the fact that women don't have penises really that far-fetched of an idea to the intelligentsia at universities around the world?
Apparently so.
According to the Daily Mail:
The since deleted tweet has received backlash from former chair of LGBT Humanists Christopher Ward who claimed the post was 'factually incorrect' and not 'worthy of a debate'.

He wrote: 'As former chair of LGBT Humanists UK, the opposition I experienced from a number of longstanding Humanists members to trans people and trans issues was a stain on an otherwise great organisation.

'And here's the new President of Humanist Students RTing horrific transphobic s**t.'
I agree with Ward's assertion that this isn't "worthy of a debate," but probably for much different reasons. The Left continues to eat their own.
In response, Sofocleous tweeted his disappointment with how the whole situation was handled ("TRAs" are Transgender Rights Activists):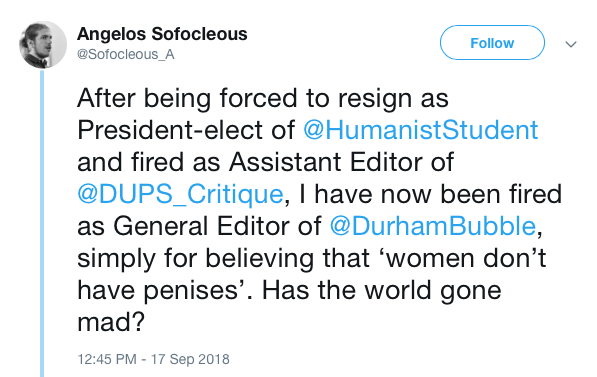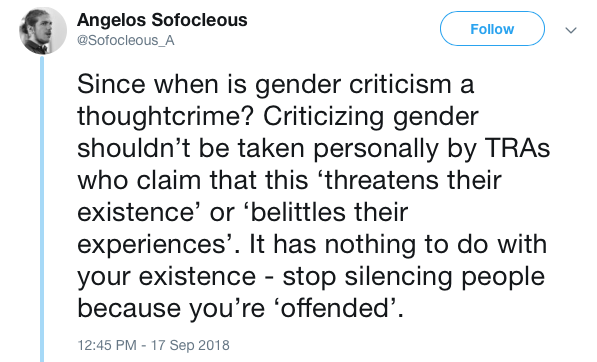 Why are the people who disagree with Sofocleous so threatened? What happens when you get offended? The reality answer? Nothing. If you're offended by something, you might feel emotionally hurt for five minutes, but nothing actually happens to you.
Stand-up comedian Steve Hughes explains my position on offense perfectly: