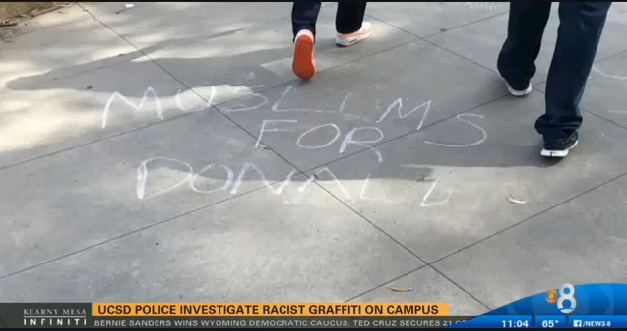 University of California San Diego (UCSD) police are investigating "racist" chalk messages written in support of Republican presidential candidate Donald Trump.
CBS 8 reports "five white men wearing hoods" were spotted writing "Donald Trump propaganda" and "racist graffiti" in chalk Friday night.
The "racist" language allegedly "targeting Latinos" appears to include the phrases, "TRUMP," "BUILD THE WALL," "DEPORT THEM ALL," "MEXICO WILL PAY," "TRITONS 4 TRUMP," "JEWS 4 TRUMP," "MUSLIMS FOR DONALD," and "LGBTQQIA LMAO FOR TRUMP."
According to CBS 8, campus police are investigating the matter because students complained about the "hurtful messages" being written outside of a multicultural center.
UCSD's chancellor, executive vice chancellor, and the vice chancellors issued a statement condemning the incident on Monday.
In the statement, the chancellors wrote, "This graffiti runs counter to our campus values of equity and inclusion. We value diversity and respect for all cultures."
Ivan Evans, the provost of UCSD's Eleanor Roosevelt College, also condemned the incident.
In a statement on Facebook, Evans wrote he hopes the matter is treated with the "greatest seriousness" if any code of conduct violation is found.
UCSD did not return MRCTV's requests for comment.