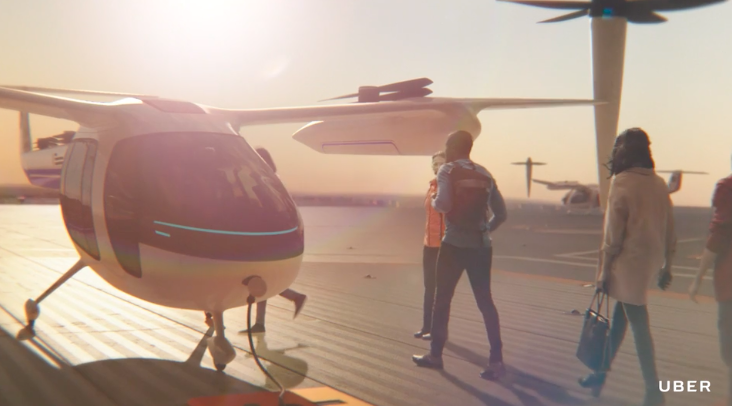 Image via Screenshot
Uber has signed a deal with NASA to develop an air traffic control system that allows for low-flying taxis in densely populated areas.
In a speech at the Web Summit in Lisbon on Wednesday, Uber's head of product Jeff Holden announced that Uber signed a Space Act Agreement with NASA to create the system for low-flying, possibly autonomous aircraft in cities.
The ride-sharing company plans to launch the pilot for its flying cars project, known as "Uber Elevate," in Los Angeles, Dallas Fort-Worth, and Dubai by 2020.
"Technology will allow L.A. residents to literally fly over the city's historically bad traffic, giving them time back to use in far more productive ways," Holden said. "At scale, we expect UberAir will perform tens of thousands of flights each day across the city."
"UberAir will be performing far more flights on a daily basis than it has ever been done before," he went on. "Doing this safely and efficiently is going to require a foundational change in airspace management technologies." 
Holden called Uber's partnership with NASA "a crucial step forward" for their project. 
"Combining Uber's software engineering expertise with NASA's decades of airspace experience to tackle this is a crucial step forward for Uber Elevate," he said in a statement on Wednesday.
Uber also signed an agreement with Los Angeles' Sandstone Properties to develop roof-top take-off and landing terminals, reports USA Today.
Uber released a video to demonstrate what using its flying taxi service would look like for the typical passenger. The video shows a woman in the city book an Uber then make her way to the top of a business building where she is taxied away within minutes.
The air taxi lands at a transit system, where the woman takes a car to round out her commute home.  
According to Uber, what would typically be a one hour and 20 minute commute from Los Angeles International Airport to the downtown Staples Center would take just 27 minutes with UberAir. 
Uber's aerial taxi service could be extremely useful for people who commute to and from busy cities like Los Angeles and New York City.
As to the price? Uber still needs to iron out those details.  
For more, check out the Engadget report below.
Thank you for supporting MRCTV! As a tax-deductible, charitable organization, we rely on the support of our readers to keep us running! Keep MRCTV going with your gift here!