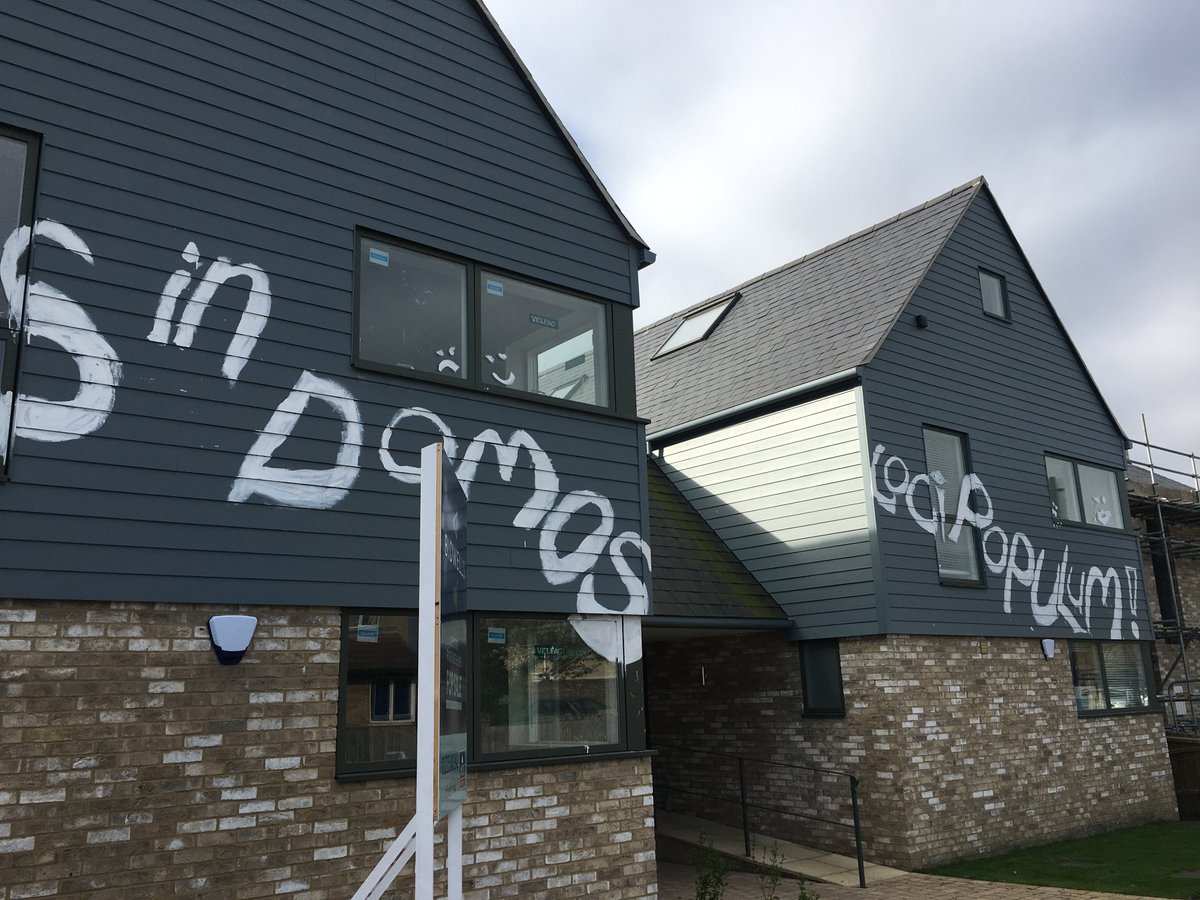 (Image source: Twitter)
A pretentious, well-educated vandal graffitied million-dollar mansions in Cambridge in an apparent protest against home prices.
BBC reports two five-bedroom waterfront homes, valued at approximately £1.25 million (the equivalent of about $1.5 million), were spray painted with the Latin words, "LOCUS IN DOMOS" and "LOCI POPULUM!"
While Google translates the phrase to gibberish such as "local people in the room homes," a rough translation would be "local homes for local people."
Charles Weiss, a classics professor at Cambridge University, told the Mirror the graffiti could possibly mean "a place for homes equals places for people."
Mary Beard, another Cambridge University classics professor, told BBC, "This is a bit hard to translate, but I think what they're trying to say is that a lovely place has been turned into houses."
The Mirror notes city officials apparently believe the person behind the graffiti is an academic, rather than a commoner.
A 71-year-old retired biochemist who lives in the area told The Mirror, "I would be very surprised if it wasn't done by a Cambridge-educated activist. I could think of a few people in Cambridge who would have both the knowledge of Latin and the sentiments and the will to do it. I think if you go in the pub toilets in Cambridge you will find Latin sentiments as well."
A woman who has lived in the neighborhood for 10 years told the Mirror, "The graffiti reflects a mood in the area about that particular development."
Richard Taylor, another neighbor, said, "'It's very strange. Who has the ability to do quite neat and artistic graffiti like this?
"On the one hand it's an effective way of getting people talking about it. On the other, it's quite a serious crime. They've caused a lot of damage," he explained.
According to the Daily Mail, the average property price in the area is "about ten times the average income."
Thank you for supporting MRCTV! As a tax-deductible, charitable organization, we rely on the support of our readers to keep us running! Keep MRCTV going with your gift here!