Extra security has been added to the US-Mexico border as thousands of more migrants are expected, but that doesn't necessarily mean some aliens aren't taking a chance to cross the border illegally. Two aliens apprehended crossing the border by Customs and Border Protection on Sunday and Monday both have a criminal history that includes sex crimes.
Customs and Border Protection announced that the arrests occurred at the El Centro Sector in California.
According to a CBP press release,
El Centro Sector Border Patrol agents arrested a convicted sex offender at 4:50 a.m., Monday.

Agents assigned to the area, approximately three miles east of the Calexico Port of Entry, observed a man running north from the international border fence. Agents approached the man and determined that he was illegally present in the United States.  Agents arrested the man and transported him to the El Centro Station for processing.

Record checks revealed that the individual, Luis Rangel-Rea, a 57-year-old Mexican national, is a convicted sex offender.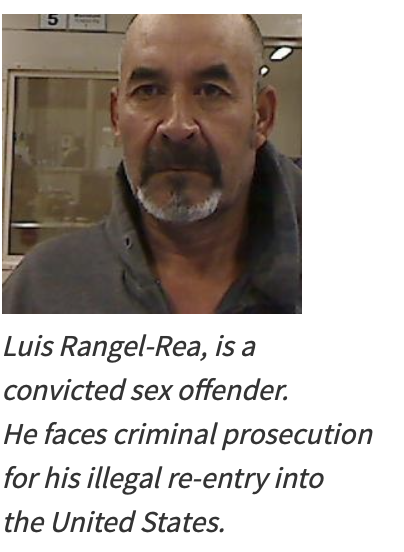 Rangel-Rea had a felony rape conviction from 2008 in Santa Rosa, California.  He was sentenced to 32 months in jail.  Record checks also revealed that Rangel-Rea was previously removed in December of 2015.

'Thankfully we were able to apprehend this man before he made it to the interior of the United States,' said Chief Patrol Agent Gloria I. Chavez.  'Our agents are keeping heinous criminals like Rangel off the streets.' 

The man will be criminally prosecuted for Re-Entry after removal as a convicted sex offender.
CBP was busy with an illegal alien sex offender on Sunday as well.
Border Patrol agents assigned to El Centro Sector arrested a convicted sex offender and gang member Sunday afternoon.

The incident occurred at approximately 4:15 p.m., after agents assigned to the Calexico Station arrested a man near the Calexico Port of Entry for illegally crossing the international border.  

Agents determined the man was a citizen of Mexico illegally present in the United States.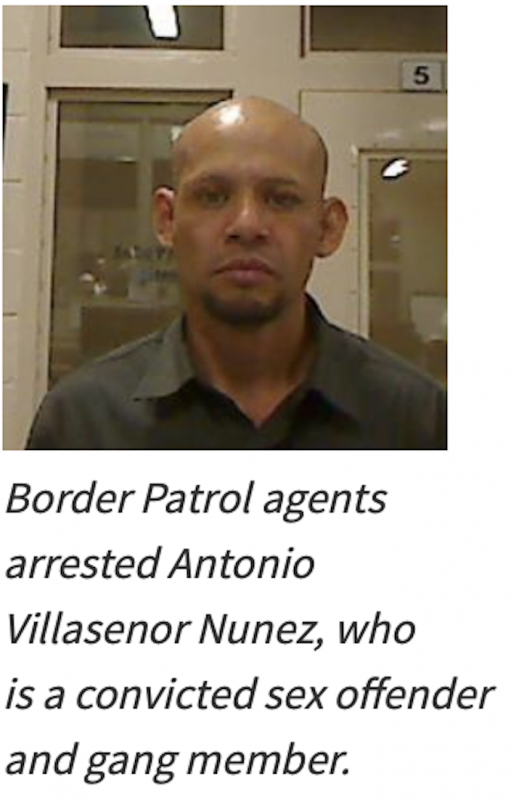 Border Patrol agents conducted record checks, which revealed that 34-year-old, Antonio Villasenor Nunez, had a previous criminal record.  In 2005, Villasenor was convicted for sexual battery and was sentenced to 60 days in prison.  In 2007, Villasenor was convicted of vehicle theft and sentenced to six months in prison.  In 2009, Villasenor was convicted of false identification to peace officers and was sentenced to 20 days in prison.  In 2012, Villasenor was convicted of robbery and was sentenced to two years in prison. 

Additionally, Villasenor previously removed from the United States 2007 by an immigration judge. 
MRCTV Reader,
The liberal media are terrified of the truth, especially when it leads to uncomfortable questions about their own leftist worldview.
MRCTV is the multimedia division of MRC featuring original content and aggregated videos of the news, people, and events conservatives care about.
MRCTV relies on the support of our loyal readers (and video viewers) to keep providing the news and commentary that matter to the American people, not just stories that prop up the liberal agenda.
Make a donation today. Just $15 a month would make a tremendous impact and enable us to keeping shining the light where the liberal media are afraid to tread.
— The MRCTV Team
DONATE
Connect
Sign up for our MRCTV newsletter to receive the latest news.
Sponsored Links