At this point, is there any reason for a conservative — or even a moderate — to be on Twitter other than to rack up how many times they've been or are going to be suspended and/or banned by the far-left social media platform? 
Conservative commentator and host of the popular "Louder with Crowder" talk show Steven Crowder has been suspended from Twitter…again. This time Crowder has been locked out of his account for seven days and wasn't given a clear explanation as to the reason for the suspension.
"No idea why Twitter locked me out, as in the allotted category (wherein they would include said information) was left blank," Crowder said, according to The Blaze.
A reported email from Twitter to Crowder stated that "repeated violations may lead to a permanent suspension."
On the Thursday edition of his show, Crowder provided screenshots of the Twitter notifications that show no reason for the suspension was given in the space next to the words "Specifically for," which is supposed to provide the affected account with their reasoning.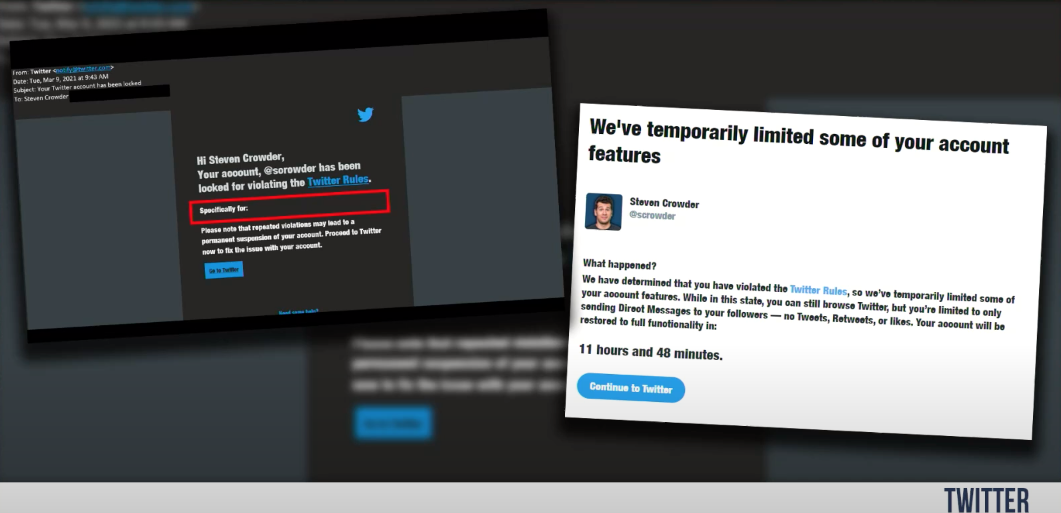 While no reason has been given for the suspension, The Blaze posited that one possibility was Crowder reposting a 5-year-old video of him impersonating a transgender "woman" on the Socialist Party of America's invention that would eventually become International Women's Day this past Tuesday.
Of course, the Twitter cult lost their minds and Crowder was probably reported a bunch in response. However, it's still not clear the Twitter post in question was the reason for the suspension, again considering Twitter did not provide Crowder with a reason for the move to suppress his free speech.
If you can avoid it, don't use Twitter. They will eventually come after you. And besides, people were able to function just fine before Twitter even existed.