When you venture to a social media site like Facebook or Twitter, is it now appropriate to ask the question, "What am I allowed to say publicly?"
Apparently, you're not even allowed to promote a video you've done for another website. This is the plight of conservative commentator and "Louder with Crowder" host Steven Crowder.
According to Crowder's website, Crowder himself was banned from Twitter after tweeting out a link to a video in which a Crowder intern — only known as SvenComputer — descended on a LGBTQ "Gender Noncomformity" meeting at the South by Southwest Festival and Conference in Austin, Texas.
I would love to show you that video, but YouTube took the video down for "violating YouTube's Terms of Service."
Case in point: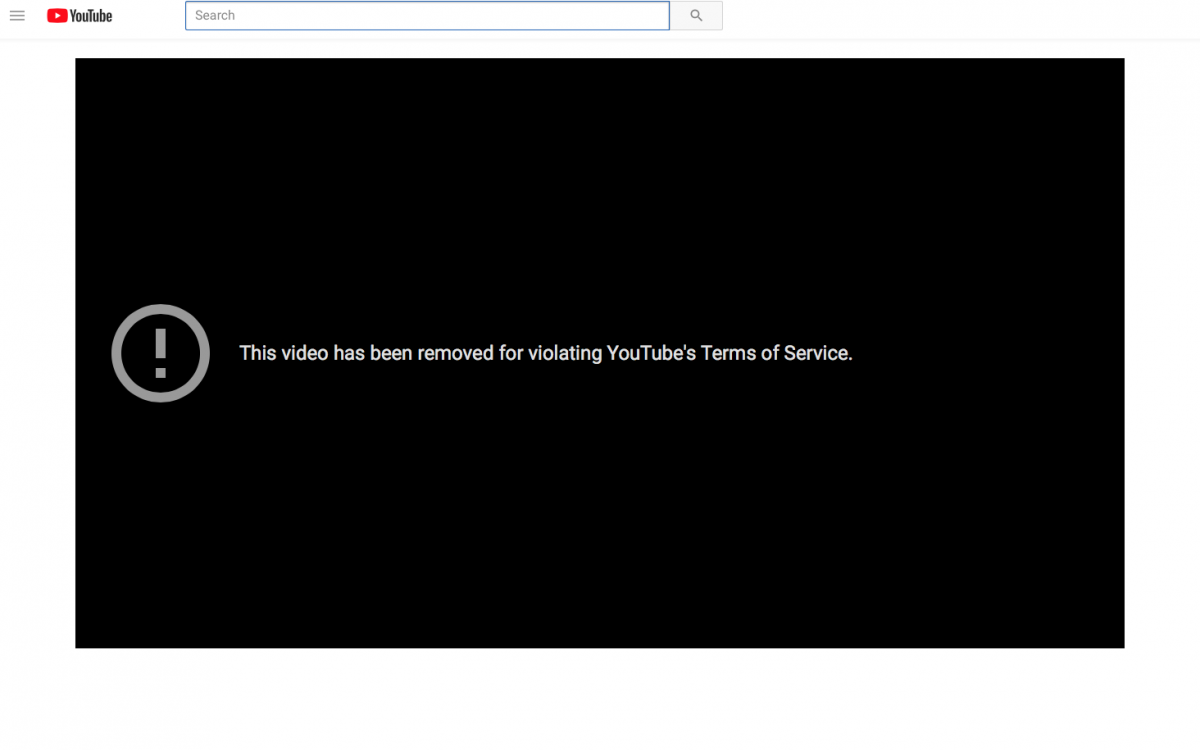 Back to Twitter.
At first, Crowder was suspended for 12 hours after the first tweet promoting the comedic video. The Crowder team figured that the uncensored use of the word "f*ggot" was the reason for both the Twitter suspension and the original video being taken down on YouTube.
In response, Crowder and his team re-released the video with the term in question bleeped out. Twitter and YouTube still didn't care, because there is currently no sign of the video on the "StevenCrowder" YouTube channel. Twitter wasn't having any of it as they suspended Crowder further — this time for an entire week.
FYI, Crowder and his team are very active on Twitter. Even Crowder's co-host Jared Monroe — aka "NotGayJared" — and SvenComputer both had their Twitter accounts temporarily suspended.
What does this mean for Crowder?
According to screenshots taken by Crowder and his team, Twitter sent the following message:
What happened?
We have determined that you have violated the Twitter Rules, so we've temporarily limited some of your account features. While in this state, you can still browse Twitter, but you're limited to only sending Direct Messages to your followers — no Tweets, Retweets, or likes.
Essentially, Crowder can't do jack squat on Twitter, because it wouldn't be a day ending in "y" if someone in Silicon Valley didn't feel triggered by anything Right of Socialism or Communism.
On a side note, people YouTube and/or Twitter have no problem with: Nation of Islam Leader Louis Farrakhan, FGM victim-shamer and Sharia advocate Linda Sarsour, radical college professor George Ciccariello-Maher and many, many more. But, a conservative stand-up comic from Canada? Get the hell out of here!
Others on Twitter have begun using the hashtag, #FreeCrowder: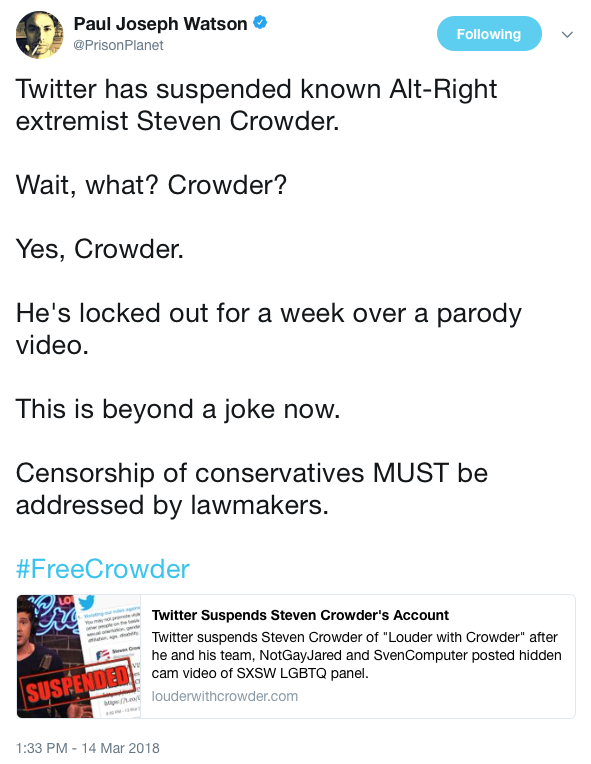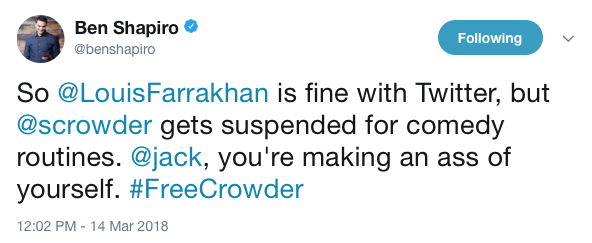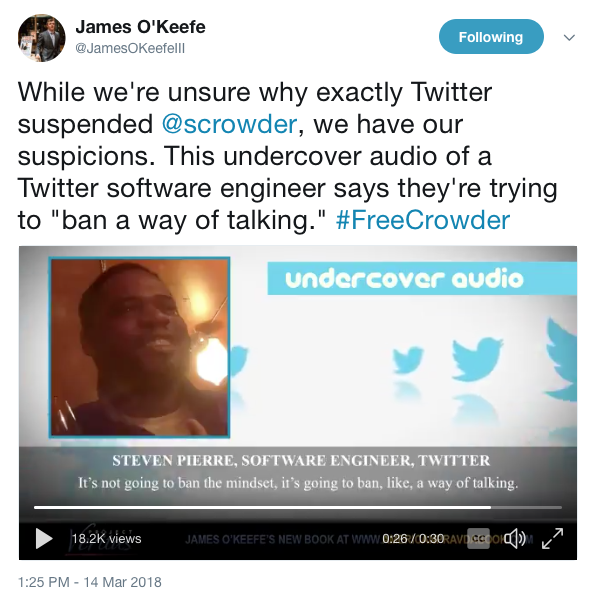 Despite the fact that social media organizations are businesses, and can therefore run their business any way they choose, there's a big problem with being a supposedly "free and open" site for everyone...that only censors certain sides.
#FreeCrowder.