Twitter on Thursday announced its decision to permanently suspend conspiracy theorist Alex Jones and his website Infowars for "abusive behavior."
"Today, we permanently suspended @realalexjones and @infowars from Twitter and Periscope," Twitter announced. "We took this action based on new reports of Tweets and videos posted yesterday that violate our abusive behavior policy, in addition to the accounts' past violations."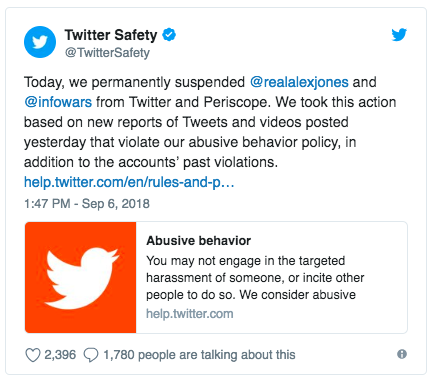 "As we continue to increase transparency around our rules and enforcement actions, we wanted to be open about this action given the broad interest in this case," Twitter continues. "We do not typically comment on enforcement actions we take against individual accounts, for their privacy."
Twitter adds that the company "will continue to evaluate reports we receive regarding other accounts potentially associated with @realalexjones or @infowars and will take action if content that violates our rules is reported or if other accounts are utilized in an attempt to circumvent their ban."
Twitter had previously suspended Jones for seven days, MRCTV reported. He was able to access the social media platform and read tweets but was not able to tweet anything himself.
Twitter's abusive behavior policy states that users "may not engage in the targeted harassment of someone, or incite other people to do so."
The social media company's decision to permanently suspend Jones comes a day after he made a spectacle of his attending a hearing on Capitol Hill about 2016 election meddling, where Twitter CEO Jack Dorse was testifying.