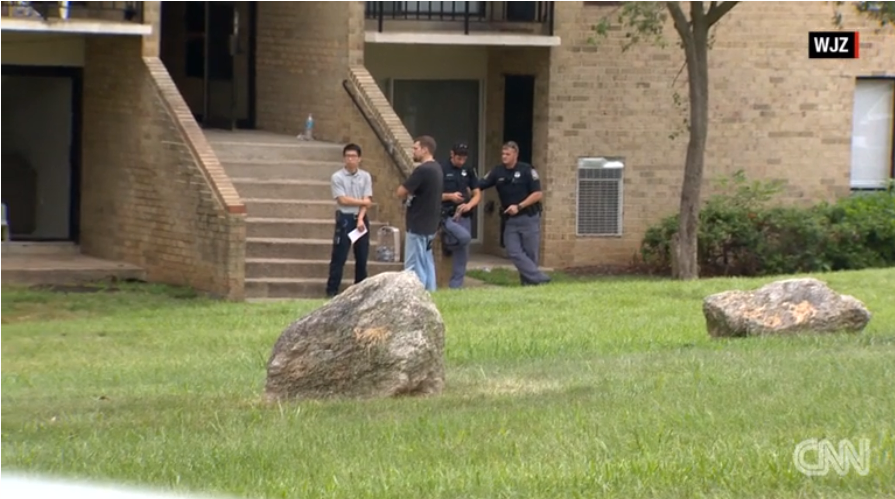 Twitter is up in arms over the Monday shooting of a 23-year-old black woman by a cop in Baltimore, Md., that left her dead and her five-year-old child injured. But the wave of tweets that declare her a martyr and all cops "pigs" seem to contradict the facts that are known about the case.
According to the Baltimore Police Department, three officers were sent to arrest a man and a woman in Baltimore County around 9:20 a.m. The man was wanted for assault while the woman, 23-year-old Korryn Gaines, was wanted for failure to appear in court over "an array of traffic charges, including disorderly conduct and resisting the arrest."
When police arrived at the apartment where the suspects were reportedly staying, the officers said they heard voices inside the apartment but were refused entry. The cops were able to obtain a key to the apartment after some time.
When they opened the door, the police officers immediately came face-to-face with Gaines, holding her young son in one hand, and a shotgun in the other.
"The officers quickly retreated to the hallway outside of the apartment and called for additional support," the spokesperson for the police reported. The man who was in the apartment tried to escape with an infant, but was soon apprehended by police.
The "barricade situation" continued till about 3 p.m. All attempts by the negotiators to bring the standoff to a peaceful conclusion were futile, police claimed. During the standoff, the woman allegedly pointed her shotgun at the officers multiple times and said, "If you don't leave, I'm going to kill you."
The officer threatened fired a single shot at Gaines, who shot back. The police officers opened fire, killing the woman and accidentally injuring the child.
The child recieved a non-life-threatening injury and is being treated at a local hospital. It is not clear who injured the child. It's also not known if any of the cops were wearing body cameras at the time, as Baltimore police are still phasing them into daily use.
But these known pieces of information, and the fact that the situation is still under investigation, haven't stopped some Twitter users from jumping to the defense of the black woman.
Although the death of a mother is particularly tragic, Gaines should have known that nothing good could have come from pointing a gun at a police officer, declaring that she was going to shoot someone, and putting her child in harm's way.