While apparently finding nothing wrong with a Democratic state lawmaker offering money to anyone willing to dox pro-life teenage girls, Twitter has taken the brave step of banning a growing (and clearly labeled) parody account mocking Rep. Alexandria Ocasio-Cortez.
The @AOCPress account, which even clearly branded itself a "parody" account, had grown to more than 85,000 followers before being taken offline Tuesday. So far, the social media giant has offered no explanations for their decision. 
According to the Daily Wire, Mike Morrison, the account's creator, also had his personal account @OfficeOfMike with more than 60,000 followers banned with no explanation.
However, an email reportedly sent to Morrison lays out the site's rules for satire accounts, clearly indicating that the AOC parody account didn't violate Twitter's terms of service.
"You may not register or create fake and misleading accounts. While you may use Twitter pseudonymously or as a parody, commentary, or fan account,you may not use misleading account information in order to engage in spamming, abusive, or disruptive behavior, include attempts to manipulate the conversations on Twitter," the email read.
Even as accounts that have called for violence against pro-lifers, gun owners and Republican politicians remain active, Twitter apparently thought tweets like these were threatening enough to suffer a permanent ban: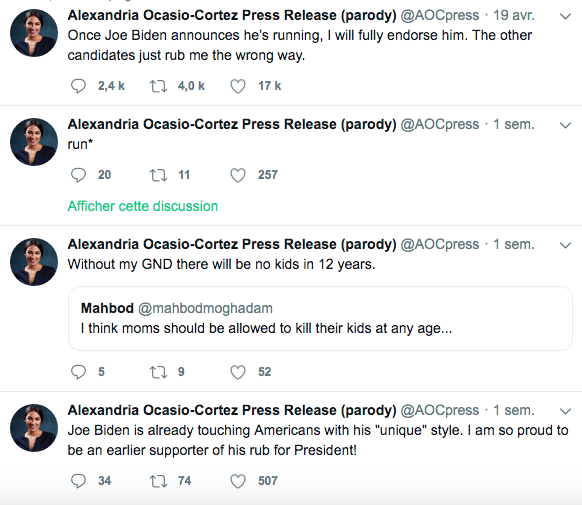 But while censorship of right-wing ideas – and now, even obvious jokes – are a bridge too far for the left-leaning site, perhaps we don't really need a parody account for AOC.  After all, the woman did just admit she was "terrified" by a garbage disposal.