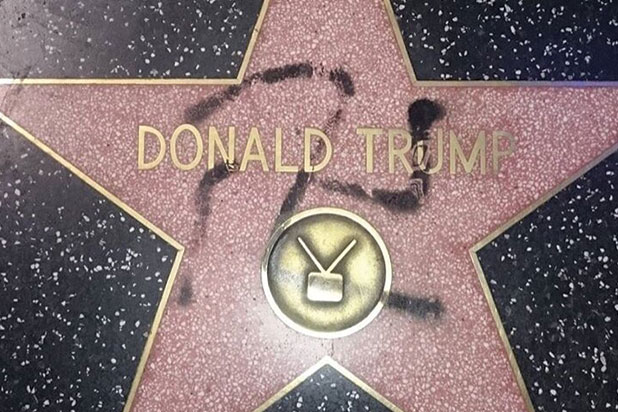 (Image: Reddit)
GOP presidential candidate Donald Trump's Hollywood Walk of Fame star was defaced with a swastika late last week.
An image of the spray-painted star, which is located at 6801 Hollywood Boulevard, was uploaded by a Reddit user on Friday. The image shows Trump's star adorned with a reverse swastika in black spray paint.
The star was cleaned and back to its original state by Saturday morning, but this was not the first time the star has been defaced since Trump announced his bid for president. 
Someone spray painted a yellow "X" over the Walk of Fame star back in September.
Austin Franklin, a man who impersonates Batman on Hollywood Boulevard near Trump's star, said that he has never seen anything like this.
"I've never seen this kind of hate put on a star before, not even Bill Cosby," said Franklin, referencing the former TV personality recently accused of drugging and sexually assaulting more than 40 women.
Since there have been no arrests in either case of the defacing of Trump's star, the motives behind the hate toward the candidate are unknown.